Ashley Hendricks – Associates Degree Nursing, RN, ADN
Class of 2010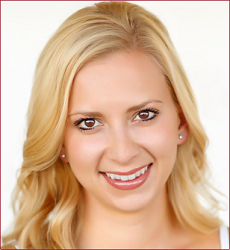 Why did you choose Central Lakes College?
I began my education at Central Lakes College as a post-secondary student my senior year of high school. During this time I learned more about the CLC Nursing Program and heard great reviews from other students. I made my choice to go to Central Lakes College based on the remarks of other students, and affordability.
What is your favorite college memory?
My favorite college memory would be the Registered Nurse Pinning Ceremony where I was awarded the "Clinical Excellence Award." It was an honor to receive this award, and I felt proud to graduate with this accomplishment.
What was your funniest moment as a student?   
Although it did not seem funny at the time, my favorite memory was clinical simulation. I will never forget the specific scenario I was given. My (simulated) patient was going through delirium tremens and I did not know how to calm him down or control him; I proceeded to let him get out of bed, fall, and hit his head. I learned many great lessons in a simulated safe environment. I was taught how to better care for patients. I am glad I can now look back and laugh at this.
Where did you go and what did you do after leaving CLC?
After receiving my Associates Degree in Nursing I continued to work towards achieving my Bachelors of Science in Nursing. I am thankful I had my two-year RN degree and was able to start working immediately while finishing my four-year degree. I gained great experience while actively working in my field, and this was very beneficial while completing my four-year degree.
I began my nursing career at Essentia Health and I worked in general medical, surgical, and telemetry units. After two years of acute care I discovered that my true passion is caring for critically ill patients.  I moved to the Twin Cities to pursue my goal of working in an Intensive Care Unit (ICU) at a Level 1 Trauma Center. I now work at Regions Hospital – Saint Paul in the Medical Intensive Care Unit (MICU). My job is very fulfilling and rewarding; I continue to learn new things every day, and am continuously challenged in a highly fast-paced environment.
Describe any recent accomplishments.
After working in the MICU for one year I achieved my Critical Care Registered Nurse Certification (CCRN). This is a certificate that requires one-year full time equivalent ICU hours, and additional studying. I also participated in assisting Critical Care Simulation by volunteering in our Simulation Center to better improve the orientation process for Critical Care Nurses. I was one of the nurses that ran through scenarios with our simulated manikin. I am an active Unit Practice Chair Member that meets monthly to discuss ways to improve our unit. We implement new policies and guidelines through working with our colleagues. I am a current member of the American Association of Critical Care Nurses (AACN) as well.
Would you send your children to CLC?
Yes. My mom also recommended CLC to me, and I would encourage others as well.
Were there any instructors or administrators who influenced your life?
Darci Goeden was the most impactful instructor I have ever had. Her top-notch personality and wisdom in addition to her passion for nursing makes her the best instructor I know. She sets high expectations for her nursing students, but she holds herself to those same standards. Her high energy levels motivated me to learn and kept me on my toes. In class and in clinical she has provided me with exceptional education and clinical experience, and I am thankful to have been one of her students.
Describe CLC in three words.
Affordable. Concrete. Education.
What impact did CLC have on your life?
Central Lakes College had an influential impact on my life. It was a great stepping-stone that allowed me to complete my two-year degree and not leave me in debt, which was important to me. By going to Central Lakes College I was able to discover my passion for nursing through taking generals and talking with other students and advisors.  I was given the building blocks to further advance my career professionally and to also advance my degree.
What kind of advice would you give today's students?
Don't postpone achieving your dreams. Get your feet wet and start taking classes immediately.  Without getting started how will you ever discover what your passion is?
Submit a Nomination
If you would like to nominate a distinguished alumnus or alumna for the Alumni Spotlight Series, please complete and return the Alumni Spotlight Nomination Form
Please contact the CLC Foundation and Alumni Office with any questions at (218) 855-8135 or alumni@clcmn.edu.