Mailing address:
CLC Foundation
501 West College Drive
Brainerd, MN 56401
For general inquiries:
foundation@clcmn.edu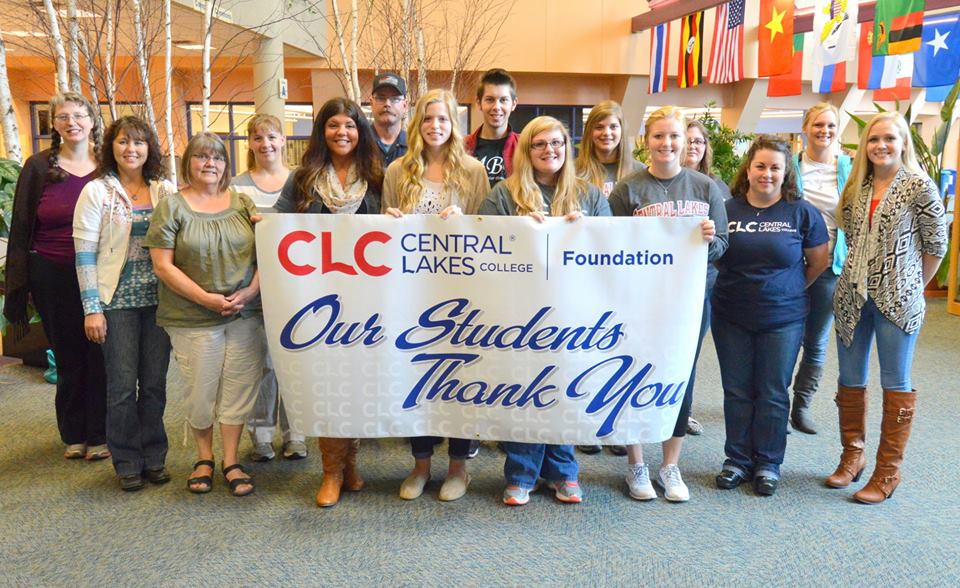 Welcome from Kate Adornetto, CLC Foundation Executive Director
Dear CLC Community:
I am excited and honored to join your organization as the new executive director. I want to thank everyone for your warm welcome. Also, I want to thank the Central Lakes College faculty and staff, as well as, the board for their support and assistance in helping me transition into this position. I have already learned so much about Central Lakes College and with your continued input, participation and support, you can be assured that the CLC Foundation has a bright future.
The Central Lakes College Foundation is committed to helping Central Lakes College maintain its high academic standing and enhancing the educational life of its students, and today, I am privileged to ensure that we will continue to be there every step of the way. Needless to say, we have a great team here at CLC!
The Foundation sincerely appreciates the support of its donors, who not only impact today's students, but also help ensure that CLC will be here for generations to come. I encourage you to browse our Web pages and see for yourself how you can personally make a difference!
Again, I look forward to working with you, learning from you, and, together, setting an even higher standard for education in our community. I welcome the opportunity to hear from you, whether to share your thoughts and ideas, or simply to say, "Hello."
Best regards,
Kate Adornetto
Who We Are
Central Lakes College Foundation is a registered, non-profit organization committed to helping Central Lakes College maintain its high academic standing and enhancing the educational life of its students. In 1968, the foundation was established as an independent entity to solicit, receive, and administer gifts, grants, and bequests on behalf of the college. The foundation is governed by a volunteer board of community leaders who make all the financial decisions in regards to managing and accepting donations.
We believe in the value of an education and the opportunities knowledge brings. Our goal is to be a major force in providing opportunities for students to improve their lives through higher education, employment, personal living, and better quality of life. We strive to increase resources, raise funds, and nourish students of promise who with determination and perseverance transform their lives through education.
What We Do
Today, the benefits of higher education are beyond reach for too many. More than 75% of CLC students need financial assistance to attend college. Many students are working full-time, supporting families, and trying to make ends meet. At the same time, programs suffer from reduced public funding and face challenges in acquiring resources and equipment to stay current in their fields. That's where the CLC Foundation comes in.
We help students access education by awarding scholarships and building the capacity of the college to provide vital educational opportunities for our community. We recognize students' academic achievements and provide support in a variety of ways, from scholarships for tuition and books to one-time emergency grants through our Random Acts of Kindness program. In addition, the foundation is proud to support CLC's programs and disciplines which result in direct benefits to all students.
Students who receive a scholarship often tell us that while the financial assistance was important, the fact that someone believed and invested in them with a scholarship affirmed their determination to succeed in completing their college education.
With generous support from alumni and friends of the college, CLC students can afford an education, and their experience here, made stronger by your gifts, will help them have great careers, building stronger communities and a better world.
Tell Us Your Story
The impact of private support can be seen throughout the Brainerd and Staples campuses, the local communities, and beyond. If you are a donor or the beneficiary of a scholarship, you are part of this legacy. To share why you chose to give or how private support has influenced your life, we invite you to Tell Us Your Story.