Central Lakes College Testing Center
The Central Lakes College Testing Center provides testing services to our students and our community. We provide a public service by offering many types of tests for classes, career development and personal growth in a friendly, quiet, comfortable and welcoming environment. We also offer test-proctoring services for students at CLC and other colleges.
How to find the Testing Center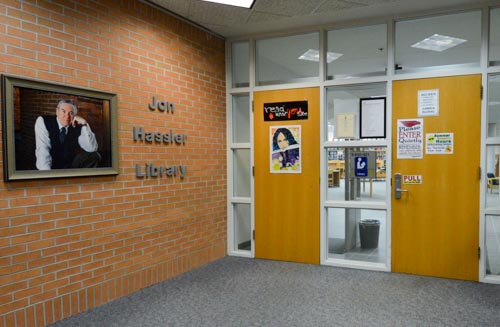 The Central Lakes College Testing Center is located in the Jon Hassler Library on the Brainerd campus. The Southeast Parking Lot is the closest parking to the Testing Center, and additional parking is available on the street. Enter the campus through Door 15, and then enter the Library and follow the signs to the testing center.
Contact the Testing Center
You can call Learning Commons/Testing Center Coordinator Teri Duff at 218.855.8265, or email her at testingcenter@clcmn.edu
The mailing address for the Testing Center is:
Teri Duff, Learning Commons/Test Center Coordinator
Central Lakes College
501 W College Drive
Brainerd, MN  56401
Hours of Operation
The Testing Center is open Monday 9:30 a.m. to 6:00 p.m., Tuesday 7:30 a.m. – Noon and Wednesday through Friday, 7:30 a.m. to 4:00 p.m.
Fees
Fees vary depending on the exam being taken.  For some exams, payment for testing occurs at the time of registration.  Other fees are due at the time of testing.  Central Lakes College students and other Minnesota State students receive free test-proctoring services.
Testing Center Information and Policies
All testers must show photo identification in order to take an exam. Please bring a driver's license or other photo identification with you to the testing center. No exams can be taken without proper identification.
Testers will be asked to place their personal belongings in a secure area while they are being tested. Nothing can be taken into the testing room.
Please arrive at your scheduled testing time. Early or late testers may not able to test, and may need to reschedule. Drop-ins will be accommodated as time permits.
Each exam has a specific policy regarding scheduling or canceling an exam, and there may be fees involved.
Cheating is not tolerated, and if cheating occurs, testers will be asked to leave.
No eating or drinking in the testing rooms.
Testing accommodations for documented disabilities are available upon request. Note that these arrangements must be made at the time that the test is scheduled.