New #CLCmoment winner announced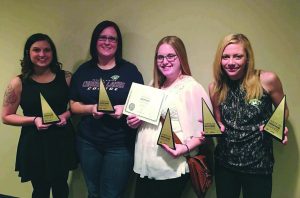 This month's #CLCmoment winner is student Bryanna McMillen!
For her picture of the ADDY awards she and her fellow photo imaging classmates won at the annual American Advertising Awards, Bryanna won a $25 gift certificate to the CLC Bookstore!
Congratulations, Bryanna! Keep those #CLCmoment posts coming!
Want to be the next winner? Here's how:
.
Illusion Theatre brings 'Thurgood' to CLC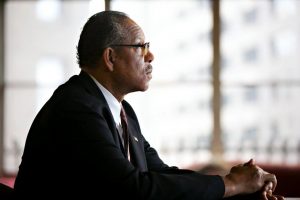 We know about Martin Luther King and about Malcolm X. What do you know about the other visionary leader of the Civil Rights Movement—Thurgood Marshall? The Illusion Theater of Minneapolis will present the one-man play based on this legal giant's life on Friday, February 17. As part of the Central Lakes Community Performing Arts Center's Cultural Arts Series, 'Thurgood' will have performances at 2 p.m. and 7:30 p.m. in the Chalberg Theatre on the Brainerd campus of CLC.
Coming from a childhood in Baltimore, Thurgood Marshall became a lawyer and eventually a Supreme Court Justice. Thurgood was a one of the architects of the American Civil Rights Movement including the landmark "Brown vs Board of Education" case. This is an eye-opening, humorous and uplifting portrait of a true American hero.
Playwright George Stevens, Jr. takes us back to the early days, when Marshall's father used to bring his son with him to listen to lawyers arguing in court. His teacher made him study the U.S. Constitution after misbehavior in class, and because of repeated infractions, Marshall managed to memorize the entire thing.
When the college honors graduate's application to the Maryland University School of Law is rejected simply because he is black, it stings. Marshall gets "revenge" on the school when he later successfully sues the university over their rejection of another highly qualified black applicant.
As a lawyer for the NAACP, Marshall went on to win a variety of important cases, which led to chilling incidents in the American South where he barely escaped being lynched and shot in the back.
We get details about his most famous Supreme Court win, "Brown vs. Board of Education of Topeka" in 1954, which banned racial segregation in public schools, and follow his inspiring trajectory to the Supreme Court.
The show is a revelation, not just of history, but also of the courage and compassion of a true American hero.
The play premiered in 2006 with James Earl Jones in the role. A 2008 Broadway revival featured Laurence Fishburne. The Baltimore Sun said it is one of the most frank, informed and searing discussions of race you will ever see." The New York Times theatre critic wrote of the production, "As I left, I found myself misty eyed, recalling a celebrated line from a speech by the Rev. Dr. Martin Luther King Jr. that I have always found moving, in which he cites a belief that 'the arc of the moral universe is long, but it bends toward justice.'"
This production will feature Minneapolis actor Neil Hazard as Thurgood. The Illusion Theater is a professional company based in Minneapolis. Their mission is to generate theatre that illuminates the illusions, myths, and realities of our times and to catalyze personal and social change.
Their work has been presented on the CLC stage before, said Series Producer Patrick Spradlin. "We've had Illusion here with their tremendous productions of 'My Antonia' and 'Bill W. and Dr. Bob.' The 'Bill W.' production was so well received that we did our own production of it a couple of years later. They never fail to impress and to deliver high quality work."
Tickets for 'Thurgood' are available from the CLC Box Office at (218) 855-8199 or online at www.clcmn.edu/arts
CLC employee accepted as Policy Fellow
Ajeet Yadav, Environmental Health and Safety Director at Central Lakes College, has been accepted as a 2016-2017 Policy Fellow at the University of Minnesota Humphrey School of Public Affairs. A committee of prominent Minnesota Republican and DFL leaders, a nonprofit director, and business leaders recommended Yadav's admission to this year's cohort. The program is designed to develop leaders in self-awareness, coalition building, and understanding how to make things happen in and around the policy process.
The course work is over a 10-month period in which fellows learn to network and use leadership on a grander level than their lone institution. The program gave Yadav a global outlook that can work within the confines of legislation and regulation yet use ingenuity and network connections to meet the needs of diverse communities.
On November 29, 2016, Yadav traveled to Washington D.C. for a weeklong study trip. There, he was able to meet various representatives and watch the process of government in action. Highlights include visiting the Department of State, Council on Foreign Affairs, Bloomberg News, andthe Whitehouse.
Yadav stated, "This is a great opportunity for me to learn and develop leadership skills. This is a very stimulating experience that inspired me to find meaning in what I do, taught me to be thoughtful and take responsibility to give back to the community. Most importantly, it helped me understand the meaning of success. Success does not mean individual's achievement, rather it defines collective engagement where everyone excels and communities prosper. This can be achieved by putting our self-interest aside and working towards our shared objectives for collective impact."
"All the leaders that I met during my DC educational trip had great energy and were very passionate about the work they do to improve the quality of human life. They are the role models I aspire to be one day – a leader like them."