CLC alumni, students assisting at TEDxGullLake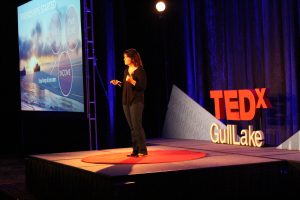 When TEDxGullLake holds its all-day conference of inspiring talks and performances April 22 at Madden's on Gull Lake, CLC alumni Nick Weeks, Mitch McCallson and Scott Hubert will be front and center.
They were first introduced to TEDxGullLake as students in 2015. Now they are back helping to lead the event.
"It was a phenomenal event," McCallson said. "It was great to be a part of a high-quality production, working with fellow video students alongside a professional crew. I wanted to be a part of making it happen again."
As a team, Weeks and McCallson are co-chairs of the Marketing Committee for this year's event. They work with other CLC alumni Josh Hammer, Kira Moses, and Brent Balmer to create graphics, ads, videos, shirts, posters and social media used to promote the event.
Weeks and McCallson were students in Mark Ambroz's Videography Program at the time, which helped capture the entire event on six cameras for live streaming around the world and creation of TEDx videos seen online. "For students to be a part of a professional video shoot is something special," Ambroz said. "You just can't replicate that in a classroom."
Videography students will again be behind the cameras for the April event. This year, students from Sarah Kath's Leadership Class and from Psychology Club will be donating time to help set up the event and staff it for the day of the talks. In addition, the CLC Foundation is providing 20 scholarships for students who want to attend. Hubert was part of the Leadership Class in 2015 when he volunteered to help. This year he is a member of the Finance and Budget Committee, raising funds and strategizing ticket sales.
"To have an event of this caliber in our area says something about who we are," Hubert said. "These are normally held in big cities and at larger universities. Hosting a TEDx in and for a rural area shows we have a strong multi-faceted community willing to make things happen." TEDxGullLake is planning to have 16 speakers and performers on a variety of topics big and small.
Tickets cost $70 and include a Minnesota Harvest lunch, using many locally-grown foods. More information can be found at www.TEDxGullLake.com.
In effort to help farmers, CLC's Ag and Energy Center to study edible bean production
Central Lakes College's Ag and Energy Center will lead a study that will explore increasing efficiency in edible bean production.
The Ag and Energy Center was recently awarded a $36,000 Specialty Crop Block Grant from the Minnesota Department of Agriculture to complete the study.
"Edible beans are an expensive crop to experiment with due to high input costs," said Hannah Barrett, research coordinator of CLC's Ag and Energy Center. "The importance of this trial is to determine the best practices in growing edible beans so farmers can avoid risking their own profits margins. Ultimately, we want this study to help increase profit margins for area producers."
Barrett authored the grant request with CLC farm manager Ron Nelson. The project will start this summer and will span two years.
The edible bean grant is a two-fold experiment that determines the effect of varying in-furrow applications as well as varying top dress applications of fertilizers, and its subsequent effect on yield.