About the Osprey Cam
A unique partnership is giving people a first-hand look into the life of a magnificent fish-eating bird of prey: The osprey.
An osprey nesting platform was erected in 2010 on the CLC Brainerd campus. Now, a high-definition live stream webcam gives viewers a clear look into the lives of these unique birds. It's all thanks to a partnership between Central Lakes College's Natural Resources Program, Crow Wing Power, Consolidated Telephone Company, People's Security and Brainerd Public Utilities.
Thank you to all who submitted suggested names in the Crow Wing Power Osprey Naming Contest. Officers at the CLC Natural Resources Club recently selected the winning names. The pair's names are Harlowe and Hercules.
Archived Images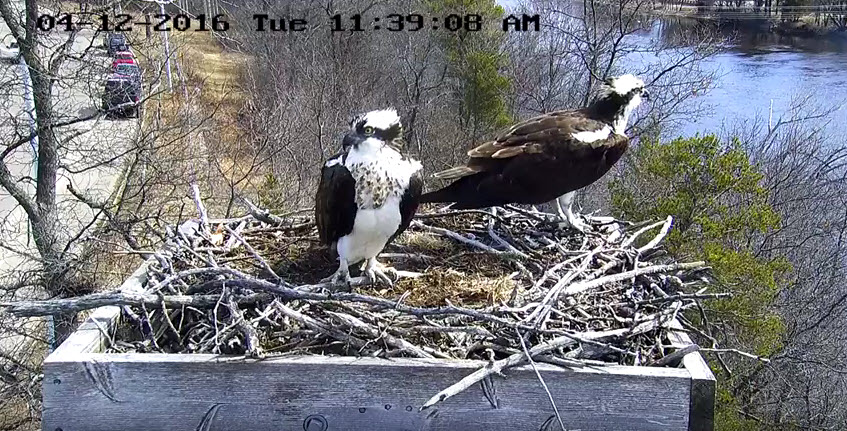 Sometimes it takes several years for osprey to choose a new site to make their home, according to Pam Perry from the DNR. In spring 2012, the first pair of ospreys took over the platform at CLC, making their nest with sticks and moss. By fall 2012, two eggs hatched and the young ospreys were ready for flight.
The birds returned to the CLC platform the next spring, but the late ice out and cold spring deterred them from nesting that year. The osprey pair returned again in April 2014, laying two eggs. Those two chicks hatched and grew strong enough to leave in September. Once again in April 2015, the osprey pair returned to their CLC home and laid two eggs, which hatched in June.
Last year, 2016, the pair returned in early April and laid 3 eggs.  All 3 hatched, but unfortunately one of the chicks died after about 3 weeks post-hatch, likely of disease.  The other two continued growth thru summer and both successfully fledged in September.
Central Lakes College and its partners invite the community to watch our osprey friends through a high definition live stream webcam. See the miracle of life through the eyes of the osprey.