Why Choose Natural Resources Technology A.A.S. Degree at CLC?
• We provide an affordable education option without compromising the quality of education – students leave our program with less debt and equally prepared as their peers at four-year schools
• Financial assistance is available to Natural Resources students through scholarships and student research positions – more than $50,000 was available to students during the 2015-16 academic year alone.
• With low instructor to student ratios (approximate class sizes of 20), students receive personal attention from their instructors and develop strong relationships with their classmates
• Most of our students continue on to a four-year school to complete their Bachelor's degree, equally prepared as their peers at these schools, and often arriving with more advanced training
• We offer full articulation agreements with Bemidji State, South Dakota State, University of MN Crookston, and University of WI Stevens Point, to complete Bachelor's degrees
• We offer paid internships through our agency partners, including MN DNR Fisheries, Wildlife, Eco-services, and Parks, the MN Pollution Control Agency, the U.S. Army Corps of Engineers, Camp Ripley Military Reserve, and Crow Wing County Land Services
• Located at the intersection of three biomes and adjacent to the 55,000 acre Camp Ripley Military Reserve, the Brainerd Lakes Area is diverse and accessible place to study and recreate
• Our instructors live and breathe natural resources, with broad and varied experiences, ongoing ecological research activities, and extensive networks of natural resource professionals
Dr. William Faber
Dr. William Faber holds a Bachelor of Science degree in Wildlife Management from the University of Minnesota and St. Cloud State University, and a Master of Science and Doctorate degrees in wildlife ecology from the Swedish University of Agricultural Sciences, where his research focused on moose. He is a board member of the Minnesota Chapter of The Wildlife Society and the Minnesota Sharp-Tailed Grouse Society, in addition to being appointed as a citizen member of the Legislative-Citizen Commission on MN Resources (LCCMR) and the Budgetary Oversight Committee (BOC) overseeing spending of the Game & Fish Fund by the MN Department of Natural Resources. Dr. Faber provides an international perspective on natural resources management and his extensive global commitment to natural resources is proven in travel to 30 nations primarily for wildlife ecology-related work. Email Dr. Faber for more information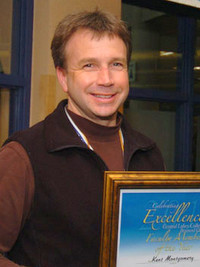 Kent Montgomery
Kent Montgomery earned a Bachelor of Arts degree in Zoology and Education from the University of Montana, and a Master of Science degree in Biology from the University of Minnesota, Duluth. He has worked in ecological field research activities for more than thirty years, including seabird ecology along the Pacific Coast and in Antarctica, moose ecology and forestry management in Montana and aquatic research across coastal Georgia, south Florida, and central Minnesota. He also has experience in planning and implementing prescribed fire, creating and enforcing conservation easements, and utilizing remote imagery/sensing in wildlife and forest management. When not at the campus, Kent coaches Nordic skiing and manages his land for multiple uses including wildlife, recreation, lumber, firewood, and maple syrup production. Email Kent for more information