Small Business Development Center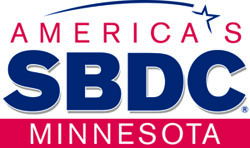 The mission of the North Central Region Small Business Development Center is to improve economic growth in Minnesota by providing assistance to small businesses in order to increase the number of new business start-ups, expand existing small businesses, and reduce the number of small business failures.
This will, in turn, preserve and create new jobs and economic opportunities for many Minnesotans. All services are confidential and are low cost or no cost. Information services and initial business counseling are free. Minimal fees are charged for seminars, workshops, cash flows, and market research.
There are now 22 Centers in Minnesota. The Department of Employment and Economic Development is the lead institution for the SBDC Consortium.
Services for Every Stage
Pre-Venture
You have a great concept, but don't know where to start. Our business readiness assessment process helps you take the leap from concept to reality; we'll help you develop your plan and walk with you down the path to success.
Start-Up
You have launched your business, the "Open" sign is up, but you've found that things aren't going as you expected. Maybe customers aren't coming or they're coming too quickly. We provide the guidance you need during the formative years when businesses run the greatest risk of failure.
Well Established
Maybe you're ready to expand and take things to the next level. Or, you're growing and you don't know how to manage all the demands. We can provide the professional guidance you need to make the critical strategic decisions necessary for long-term growth, profitability and success!
The SBDC offers confidential one-on-one consulting at no cost to qualified individuals or business owners. We can help you identify, understand and overcome the challenges of running a successful business. We provide relevant, realistic and sound advice you can trust in such areas as:
• Access to capital and loan packaging
• Financial review, assessment and management
• General marketing and research
• Marketing plan assessment and development
• Business start-up/purchase feasibility
• Start-up considerations
• Business plan development
• Succession and strategic planning

Funded in part through a Cooperative Agreement with the U.S. Small Business Administration, Minnesota Department of Employment and Economic Development and regional support partners. All opinions, conclusions or recommendations expressed are those of the author(s) and do not necessarily reflect the program sponsors. Programs are open to the public on a nondiscriminatory basis. Reasonable accommodations for persons with disabilities will be made if requested at least two weeks in advance by contacting Accessibility Services, accessibilityservices@clcmn.edu or 218-855-8175.