CLC Food Pantry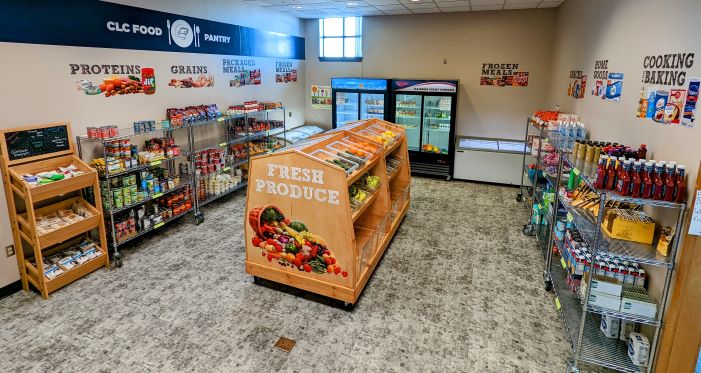 Food Pantry Locations
Brainerd Campus: HUB Student Needs Center – Room E205
Staples Campus: Veterans Center – Room A164
Hours of Operation
Monday – Friday 8AM – 9PM
Open to all CLC students
Donations
We are proud that our CLC Food Pantry distributed approximately 41,000 lbs. of food last year. Sadly, the need continues to exceed our ability to keep up. You can make a difference in the life of our students by donating to the CLC Food Pantry. Your gift is 100% tax-deductible, and every dollar donated allows us to purchase up to four meals through Second Harvest North Central Food Bank for our students!
Donate to the CLC Food Pantry or mail a check to 501 W. College Dr. Brainerd, MN 56401 Attn: Erich Heppner
Non-perishable food and personal hygiene items may be donated directly to either CLC Food Pantry location.
Suggested items for donations include:
Canned Meat and Meals (Tuna, Chicken, Stews, Soup, Ravioli, etc.)
Canned Vegetables and Fruits
Peanut Butter
Boxed Meals (Hamburger Helper, Rice-A-Roni, Mac & Cheese, etc.)
Baking Ingredients (Flour, Sugar, Bisquick, Oil, etc.)
Household Items (Hand soap, Kleenex, Laundry soap, etc.)
Personal Care Items (Deodorant, Shampoo, Toothpaste, etc.)
Plates, silverware, can openers, serving spoons, etc.
Delivery
Can't access the pantry? We deliver to your doorstep within a 30-mile radius of our campuses!
Call or text Erich at (952) 807-3279 to schedule a delivery.
Emergency Assistance
Do you have needs beyond food? We can provide a gift card for small emergencies such as transportation, clothing, temporary housing, etc. Fill out this form, and we will do our best to meet the need. Emergency Assistance Form
SNAP (Food Stamps)
SNAP (Supplemental Nutrition Assistance Program) is a federal food assistance program that provides monthly benefits to help individuals and families pay for groceries. SNAP is also sometimes referred to as food stamps or EBT.
Community Food Distributions – Open to anyone that eats
Brainerd Campus – Second Harvest North Central Food Bank
Click here for the monthly schedule
Staples Campus – Ruby's Pantry
Every first Tuesday of the month
Click here for more details
Want to volunteer at a food distribution? Email Erich at erich.heppner@clcmn.edu