Vision, Mission and Values
Central Lakes College is a full-service, comprehensive community and technical college. We offer a mix of technical college and community college programs and courses from campuses in Brainerd and Staples.
As a comprehensive two-year college, we promote success for our students, businesses, and communities. Our dedicated and competent employees provide opportunities for students to prepare for the future by learning the knowledge, skills and attitudes necessary for living and earning.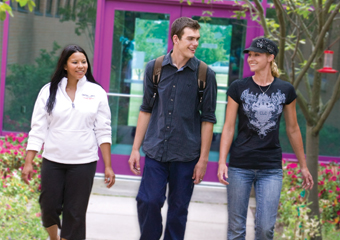 Some graduates of Central Lakes College transfer to Minnesota state universities or other colleges to complete four-year degrees. Other students at our college take a career path from more than 60 professional programs leading immediately to rewarding employment.
CLC is a member of Minnesota State, formerly known as Minnesota State Colleges and Universities, which includes 30 community and technical colleges and seven state universities serving approximately 400,000 students. It is the fifth-largest higher education system in the United States.
VISION
Central Lakes College will be Minnesota's leading Community and Technical College for lifelong learning.
MISSION
We Build Futures.
At Central Lakes College, we—
• are committed to a supportive environment for the growth and development of students from diverse cultural, ethnic, economic, and educational backgrounds
• offer liberal arts, technical education, and customized training programs of proven high quality that are accessible and affordable and that lead to employment, skill enhancement, or transfer to other institutions of higher learning
• anticipate and respond to the needs of business and industry in a globally competitive economy
• encourage and support cultural enrichment, life-long learning, civic responsibility, and community development
VALUES
Excellence
Learning
Access
Diversity
Integrity
Innovation
Service
Community
STRATEGIC PLANNING
2015-2017 CLC Strategic Plan Summary (pdf)
2015-2017 CLC Enrollment Management Master Plan Summary (pdf)
2015-2017 CLC Academic Master Plan Summary (pdf)