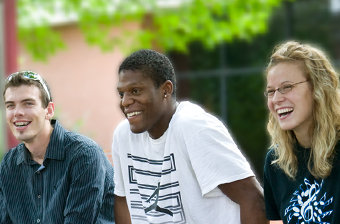 Student Learning Assessment
What is the Student Learning Program?
The Student Learning Program is a learning assessment program. Learning assessment measures what students are able to do with what they know. Through various methods, CLC–like colleges everywhere–measures student knowledge, attitudes, skills, and behaviors. Students will encounter three kinds of assessment during their time at CLC:
1) College-wide assessment
2) Program-level assessment
3) Course-level assessment
Under college-wide learning assessment, faculty have identified three broad learning goals, called "outcomes," that they expect all students to achieve. Under those outcomes are eleven specific skills, called "competencies," that all students are expected to achieve. The measuring of student ability in the skill areas occurs in various courses across the college–courses that have identified the skills as being an important part of what is taught. The college has developed a rubric (document that lays out evaluation criteria) for each competency, and faculty members design assignments and/or activities that will measure student performance in the skill area.
Program-level assessment measures skills that specific technical or degree programs expect students to achieve. Those skills vary by program. Under program-level assessment, methods of measurement are broader. In addition to course assignments, students may encounter such things as standardized tests, certification exams, and student and alumni surveys or focus groups.
Course-level assessment is assessment that faculty members do to determine grades for student assignments and projects, as well as for the course itself. All CLC courses have common course outlines identifying course-specific and college-wide outcomes that students will be expected to achieve upon completion of the course.
What are CLC's College-wide Learning Outcomes and Competencies?
The following are the general outcomes and specific skills that CLC expects students to achieve. You'll find similar statements of expectations at other colleges and universities.
Outcome # 1: Communicate Effectively
Understand and communicate effectively with others using a variety of contexts and formats, which include writing, speaking, reading, listening, and interpersonal skills.
Competencies:
Demonstrate oral communication skills
Demonstrate written communication skills
Demonstrate reading and listening skills
Demonstrate interpersonal communication skills
Outcome # 2: Solve Problems
Identify, evaluate, and apply critical thinking and creative problem solving skills using multiple perspectives and appropriate technologies.
Competencies:
Assess alternative solutions to a problem
Analyze and follow a sequence of operations
Apply abstract ideas to concrete situations
Utilize appropriate technology
Outcome # 3: Demonstrate Personal and Social Responsibility
Develop and demonstrate personal and social responsibility and teamwork skills.
Competencies:
Apply ethical principles in decision-making
Work as a team member to achieve shared goals
Discuss/compare characteristics of diverse cultures and environments
Why does CLC do learning assessment? Isn't grading enough?
A distinction must be made between grading and learning assessment. Grading gives you, the student, information about your performance on a particular assignment or in a particular class. What is assigned and measured depends on individual faculty. Learning assessment is a collaborative activity of the faculty. It relies on rubrics (evaluation criteria) that spell out specific expectations of students. All faculty members agree to use them. Though assignments/activities designed by faculty members vary, what is measured remains the same.
Your teacher will in most cases share with you how well you performed on the assessment activity—but assessment results are reported to the college anonymously as a group. No student identification is included. By looking at assessment results, CLC can determine whether or not students are learning what we say they're learning. The learning assessment process allows CLC to take steps to improve both student learning and the college's programs.
How do students contribute to the process?
The most important contribution every student can make is to take learning assessment seriously, whether it's linked to graded assignments or not. Familiarize yourself with the list of college-wide outcomes and competencies, and when your teachers introduce rubrics to you, make sure you understand them, so you can perform at the best possible level. You're a college student now. The quality of your learning experience—and the amount of progress you make—are to a large degree dependent on you.
What if I have questions?
You can contact:
Alita Reque-Peterson – Student Learning Subcommittee Co-Chair
Email: alita.reque-peterson@clcmn.edu
Phone: 218-855-8592
Bruce Fuhrman – Student Learning Subcommittee Co-Chair
Email: bruce.fuhrman@clcmn.edu
Phone: 218-855-8144
How well students learn matters to us, deeply. For that reason, CLC has developed a Student Learning Program that assesses your learning in the classroom and at the completion of your program of study. In addition to classroom tests and graded assignments, you may be asked to complete a project as part of a course, take an inventory, develop a portfolio, or take a comprehensive test to measure your mastery of the objectives of your course of study. Your instructors use the results to make the necessary changes to enhance the curriculum and learning environment. We are asking you to be a part of this continuous process to enhance learning at Central Lakes College.