Why Choose Marine & Small Engine Technology Diploma at CLC?
• Our second year students scored 14% higher than the state average, and 26% higher than the national average in the Skills USA Motorcycle test.
• Our instructors have a wealth of experience in all areas of the marine and small engine industry.
• Our instructors have earned multiple certifications in all aspects of the industry.
• The curriculum builds from the basic to the advanced, from motorcycle to marine.
• Industry partnerships with Mercury Marine, Bombardier Recreational Products, Arctic Cat and more.
• Very strong career placement in the state and nationwide.
• CLC Marine and Small Engine students out-perform their state peers by 10% and national students by 15% on the Skills USA Marine Service Technology Test.
Program Information
MARINE AND POWERSPORTS TECHNOLOGY DIPLOMA
Program Course Requirements
First Year – Fall Semester
MAPS 1101  Basic Engines I (3 cr)
MAPS 1103  Basic Engines I Lab (4 cr)
MAPS 1120  Lawn and Garden (2 cr)
MAPS 1140  Snowmobile Systems and Lab (4 cr)
MATH 1500  Applied Mathematics (3 cr)
Total 16 Credits
First Year – Spring Semester
MAPS 1106  Introduction to Electronics (2 cr)
MAPS 1130  Marine Outboard I (4 cr)
MAPS 1132  Marine Outboard II (4 cr)
MAPS 1134  Marine Lower Unit (4 cr)
MAPS 1136  Industry Certifications I (2 cr)
Total 16 Credits
Second Year – Fall Semester
MAPS 2133  Advance Marine (3 cr)
MAPS 2134  Advance Marine and Personal Water (3 cr)
MAPS 2135  Machine Shop (2 cr)
MAPS 2169  MAPS Tune Up (3 cr)
MAPS 2136  Industry Certifications II (2 cr)
General Education/Electives (3 cr)
Total 16 Credits
Second Year – Spring Semester
CCST 1530  Employment Strategies  OR  COMP 1101 Computer Fundamentals (3 cr)
MAPS 2143  Diagnostic Troubleshooting (3 cr)
MAPS 2162  ATV Motorcycle Systems I (4 cr)
MAPS 2164  ATV Motorcycle Systems II (4 cr)
General Education/Electives (2 cr)
Total 16 Credits
GRADUATION REQUIREMENT – 64 CREDITS
*Denotes Prerequisites
Career Description: Graduates of this program typically become employed at dealerships as service technicians. The most common types of dealerships include outdoor power equipment, snowmobile, marine, motorcycle, and all-terrain vehicle (ATV).
Program Information: Courses in the Marine and Small Engine Technology Program are designed to provide the students with the knowledge and skills needed for the rapidly growing recreational and power equipment fields. All aspects of maintenance and repair are taught, which include machine overhauls, shop operation, set up, and delivery. The Marine and Small Engine Technology Diploma is a two-year program. The Marine and Small Engine Technology Associates of Applied Science (A.A.S.) Degree is two years plus one semester.
Program Outcomes:
Graduates will be able to:
Apply safe work practices in a manner compatible with OSHA requirements and industry expectations;
Demonstrate industry standard applications of selected tools and equipment for powersports engine maintenance, diagnostic and repair tools;
Apply basic diagnostic and repair concepts to powersports engine, marine engine equipment power train and chassis systems;
Apply preventative maintenance concepts to powersports engine equipment care and storage;
Identify the functional relationships among small engine components and systems; and
Use a variety of computer, Web and technical resources to find information, troubleshoot problems and prepare estimates.
Special Program Requirements:
In addition to the core courses of the program, students are required to fulfill 6 credits of general education. The students are encouraged to choose between Employment Strategies (CCST 1530) and Computer Fundamentals (COMP 1101) to fulfill 3 of those credits. The other 3 credits come from the required Applied Mathematics (MATH 1500). Because the courses are sequenced, they must be taken in order.
Transfer Opportunities: The Marine and Powersports Technology Program has an articulation agreement with Bemidji State University for transfer to their Industrial Technology Program.
Career Opportunities: Many former graduates have advanced to positions as service managers, general managers, and factory service representatives.
Career Titles: After completing this program, students will be prepared for a variety of careers, including service technician, general manager, service manager, individual business owner, parts personnel, factory service representative, and parts manager.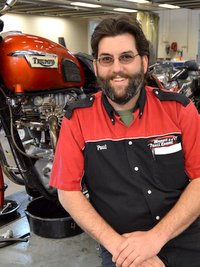 Paul Hofmann
Paul has been an instructor for the Marine and Small Engine program since 2001. He graduated from the Marine and Small Engine Technology program at Central Lakes College in 1995, and earned his Bachelors of Science Degree in Career and Technical Education from Bemidji State University in 2010. Over the years he has earned certifications with manufacturers such as Arctic Cat, Briggs and Stratton, Honda, BRP, and Mercury/Mercruiser. Email Paul for more information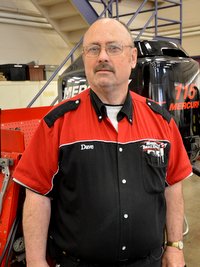 David Groshong
Dave graduated from the Marine and Small Engine Technology program in 2004 and started a small engine business. In the fall of 2004 Dave started as a substitute instructor. He became the full time college lab assistant at CLC in 2005. Email David for more information