Kirby Scott
My name is Kirby Scott and I graduated from the University of Minnesota in 1989 with a Master's degree in Chemistry. Since then I have taught at Normandale and Anoka Ramsey Community Colleges, the University of Minnesota and since 1995 Central Lakes College.
I absolutely love teaching chemistry and incorporating the latest technologies into the classroom and laboratory. My passion is to make chemistry as understandable and enjoyable as possible. Outside the classroom I enjoy time with my family, attending sporting events, and spending time at the lake. Email Kirby for more information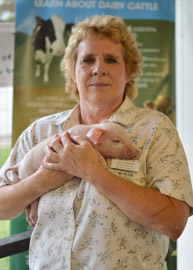 Ann Domagala
I am an adjunct instructor in the Biology and Chemistry departments at Central Lakes College, and a collaborator for both departments in the College in the Schools program. I love having the opportunity to interact with students and understand what drives them and how to help them learn. I believe that biology and chemistry are the roots of all life and all human beings should have a basic understanding of their general principles. I enjoy the "ah ha" moments when a student listening to a lecture or working in a lab, makes a connection between the learning activity and some aspect of their own lives and the light bulb goes on and the light in their eyes and the excitement in their voice tell me that they understand.
Along with teaching at CLC, I have been a practicing large animal veterinarian for the past 27 years and when I am not teaching or visiting a high school, I am working out on the farms with livestock and horses. I completed a Doctorate in Naturopathy in 2000 and have a passion for studying and using alternative therapies to treat disease, specifically Lyme disease, in both humans and animals. Along with my significant other, I also own and operate a sheep ranch where we lamb in the spring and the fall and sell feeder lambs or feed the lambs to market weight in our feed lot.
The Brainerd Lakes area has grown and matured significantly since I arrived here in the late 80's and although I wonder sometimes why I stay and endure the miserable cold winters, when summer finally comes around, and the people from the cities flock here, I know that this is indeed God's country and while they can only spend a few days, I get to live here in paradise year around. Email Ann for more information