Why Choose Agricultural Science A.S. Degree at CLC?
• Low instructor to student ratios (approximate class & lab sizes of 20) – allow for students to receive personal attention from their instructors and develop working relationships with classmates.
• CLC offers an affordable education option without compromising the quality of education – allowing students to save money for use in the completion of a Bachelor's degree upon transfer to a four-year institution.
• Fulfillment of all Minnesota Transfer Curriculum goals with carefully chosen courses which transfer as core requirements into many different bachelor degrees – allows undecided students numerous options while limiting unnecessary and costly electives.
• A variety of technical courses instructed by professionals working in the industries makes the A.S. degree versatile and practical – allowing students an introduction to an area of interest/specialization of their choice and ensuring that what they are learning is current.
• Availability of internships in agriculturally related fields – allows students hands-on experience to help them decide if they have made the right career choice.
• Articulation agreements with Southwest Minnesota State University, and pending with University of MN Crookston, North Dakota State and South Dakota State – allow for seamless transfer into select Bachelor's degrees.
• Industry professionals serving as student Advisors provide practical, real-life experience recommendations and guidance to help students in choosing a career pathway.
• Located in the beautiful Brainerd Lakes Area, students studying at CLC have ample resources for recreation to help them balance the stress of academic life with rest and relaxation.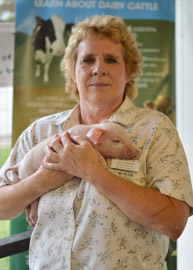 Dr. Ann Domagala
Dr. Ann is currently the sole instructor in the Animal Science department at Central Lakes College and also works with AgCentric creating new programs and curriculum for agriculture. Dr. Ann obtained a Bachelor of Science degree in Animal Science from the University of Minnesota St. Paul, a Doctor of Veterinary Medicine degree from the University of Minnesota, College of Veterinary Medicine, St. Paul, and a Certificate of Public Health Core Concepts from the University of Minnesota, School of Public Health, Minneapolis. Dr. Ann has been a practicing production animal/equine veterinarian for almost 30 years and continues to practice veterinary medicine and manage her own clinic while teaching at the college. Several years ago, frustration with western medicine led Dr. Ann to complete a doctorate in Naturopathy and she expanded her practice to include herbs, homeopathics and energy medicine modalities including Reiki and Healing Touch.
Dr. Ann's background with animals includes: serving as the official Crow wing County fair veterinarian for 28 years, working as a sales barn veterinarian, managing a veterinary clinic for a previous employer, breeding, raising and feeding sheep on her own farm in Crow Wing county, owning numerous horses, donkeys, cats, dogs, birds, ferrets and other house pets, and working with exotics including alpacas and reindeer.
The career of veterinary medicine is not a career but a lifestyle and as such leaves Dr. Ann with little time to do anything other than take care of animals. On the rare occasion when college is out of session and she can get another veterinarian to cover her practice, Dr. Ann likes to travel to out of the ordinary countries such as Egypt, Belaruse, and Russia or do a little scuba diving or horseback or ATV trail riding. When there is not enough time to get that far away from home, reading journal articles and other thought provoking books, working in the garden and tending to a variety of fruit trees and berry bushes, outdoor flowering plants and house plants seems to keep her grounded.