Why Choose Specialty Crops Management Diploma at CLC?
• Students receive help in business planning that addresses issues that are specific to their business and personal goals.
• The instructor has helped over one hundred fruit and vegetable farms throughout Minnesota for the past fifteen years.
• During group classes, students have the opportunity to meet other progressive growers who are growing and selling the same crops.
• Students can receive help in interpreting soil tests as well as learning about managing the soils at their farm.
• Students can learn to identify and control insect pests and diseases in the field.
Program Information
SPECIALTY CROPS MANAGEMENT DIPLOMA
Program Course Requirements
Required Courses
SCMT 1110  System Goal Setting  (1 cr)
SCMT 1111  Introduction to Specialty Crops  (2 cr)
SCMT 1112  Introduction to Financial Planning and Analysis  (2 cr)
SCMT 1114  Marketing of Specialty Crops  (2 cr)
SCMT 1116  Introduction to Soils and Plant Growth  (2 cr)
SCMT 1117  Pest Identification and Control  (2 cr)
SCMT 1119  Pesticide Safety and Handling  (2 cr)
SCMT 1121  Fertilizer Selection, Handling and Application  (2 cr)
SCMT 1124  Irrigation Planning and Management  (2 cr)
SCMT 1135  Labor, Risk and Tax Management  (2 cr)
SCMT 2125  Advertising and Customer Relations  (2 cr)
SCMT 2127  Advanced Financial Planning and Analysis  (2 cr)
SCMT 2131  Advanced Soils and Plant Nutrition  (2 cr)
SCMT 2132  Advanced Marketing Strategies  (2 cr)
SCMT 2136  Advanced Pest Identification and Control  (2 cr)
SCMT 2000  Special Topics – Soil Management  (1 cr)
SCMT 2200  Current Issues in Specialty Crop Marketing  (1 cr)
SCMT 2334  Value Added Opportunities for Specialty Crops  (2 cr)
Total Required Courses – 33 credits
Elective Courses
Choose 11 additional credits from SCMT-prefixed courses
Total Elective Courses – 11 credits
GRADUATION REQUIREMENT – 44 CREDITS
Career Description: Students enrolled in the Specialty Crops Management Diploma program include people who want to make their living growing and selling fruits and vegetables, as well as those who want to supplement their income. Roughly one third of the students in the program are supplementing their retirement income.
Program Information: Education for the Specialty Crops Management program is primarily delivered at the business of the student. This individualized instruction allows the instructor to design an educational program that specifically addresses the student's needs and can be delivered at the most appropriate time. Education is also delivered through annual meetings, where students are able to meet each other and through monthly newsletters, phone calls, and personal e-mails.
Program Outcomes:
Graduates will be able to:
Identify the most common diseases that attack their crops;
Identify and control the most common insects that attack their crops;
Understand the basic principles of Integrated Pest Management as it relates to their crops;
Know the soil types on their property and be able to fertilize their crops according to soil type;
Know how to vary fertilizer rates according to crop and crop stage;
Identify the most profitable outlet to sell their produce;
Know the applicable laws for hiring and firing employees;
Know how to safely apply crop chemicals;
Know the basic principles of plant physiology as it pertains to growing crops;
Be able to give examples of good forms of advertising;
Know the basic types of irrigation and sources of irrigation water on their property;
Identify and choose appropriate types of crop insurance and liability insurance for their business.
Special Program Requirements: Every student should either own and/or operate a specialty crop farm or be actively planning to start a specialty crops farm.
Admissions: The program is open to any fruit or vegetable grower in the state of Minnesota who wants to participate in the program.
Career Opportunities: Demand for locally grown fruits and vegetables is increasing rapidly. There is a good future for small acreage landowners who want to earn money by growing fruits and vegetables.
Advisory Board: The advisory committee consists of a group of enrolled growers and representatives from organizations that have a partnership with the Specialty Crops Management Program. Committee members include: Dell Christianson – Agro-K company, Jim Birkholz – Pleasant Valley Orchard, Nancy Bauer – Bauer Berry Farm, Bill Hein – Straight River Farms, Frank Femling – Afton Apple Orchard, Nick Olson – Land Stewardship Project and Prairie Drifter Farm, Marilyn Johnson – Minnesota Fruit and Vegetable Growers, Meg Moynihan -Minnesota Department of Agriculture.
Faculty Biography: Thaddeus McCamant received a Doctorate in Botany from Washington State University in 1996 and a Masters in Horticulture from Washington State University in 1988.  From 1988 to 1991, he worked in the tree fruit industry in northeastern Oregon and southeastern Washington. His research interests include cold hardiness of woody plants, water use, and integrated Pest Management.  He has been working with fruit and vegetable growers in Minnesota since 2000.
Recent publications including: Integrated Pest Management for Minnesota Apple Orchards, 2007; Integrated Pest Management for Minnesota Strawberry Fields, 2007; Hail Netting for Minnesota Apple Producers; IPM newsletter (weekly internet articles), 2005-present.
Recent grants: IPM fruit guides for Home gardeners, 2012-2013; Survey of Immigrant Farmers, 2012; Hail Netting for Minnesota Apple Growers.
Instructors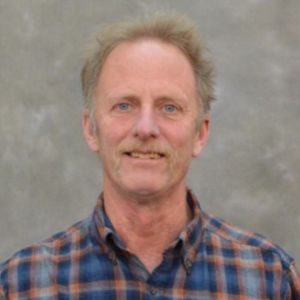 Thaddeus
McCamant
FBM Instructor
Staples