Meat Cutting and Butchery
Career Description
This program prepares individuals to receive, cut, and package animal meat products in commercial establishments and to function as licensed meat cutters/butchers. It includes instruction in product recognition for beef, veal, lamb, pork, poultry, and fancy and smoked meats; retail and wholesale cutting and specialty cuts; packaging and counter display; shop safety; meat sanitation, storage and rotation; quality control; meat handling laws and regulations; and customer service. It will prepare students for careers such as: butcher apprentice, food science technician, food safety specialist, meat carvers, State and Federal meat inspector, meat market manager, retail/wholesale meat processor and cutter and as harvest floor employees.
Program Information
Everything is better with bacon! The meat cutting butchery program is the only hands-on program in the state of Minnesota. This program will provide students a unique opportunity to learn about the entire lifecycle of an animal from an agricultural, meat production and culinary arts perspective. As a student in the meat cutting butchery program you will have the opportunity to: • Learn about farm practices in the classroom and on local farms where you will explore livestock terminology, selection and care. • Apply the pasture-to-plate philosophy as well as manage all aspects of our retail butcher shop. In the butcher shop you will identify, inspect and process carcasses, as well as prepare and package meat for sale, and interact with customers. • Learn professional meat cutting, trimming, boning, breaking, wrapping, sausage-making and curing with professional sanitation and food safety applications • Design menus, determine ingredient sourcing and complete the ServSafe credential. Students will experience practical, hands-on training in an industry-like environment to prepare for a rewarding career in the field. In the lab, you will learn the basic of meat cutting, trimming and boning, wrapping, sausage making and curing. In addition, our students will gain an understanding of sanitation and food safety, harvesting techniques, carcass preparation, customer service and entrepreneurship. Students will have an opportunity to learn on a state-of-art working farm and an integrated culinary arts program.
Program Outcomes
Graduates will be able to:
Create written food safety and operational documentation to meet industry standards;
Perform techniques for effective sanitation of meat processing equipment and facilities;
Apply food safety principles to comply with regulatory requirements;
Perform meat cutting to packing house and case ready operations requirements;
Perform value-added processed meats production to meet federal and state meat industry requirements;
Perform retail meat operations to meet the retail meat industry requirements;
Perform slaughter operations to meet industry requirements.;
Apply meat science principles to meet the needs of consumers and meat industry;
Interact professionally with clients and colleagues within the state meat industry; and
Demonstrate basic computer skills applicable to the state meat industry.
Special Program Requirements
In addition to the program requirements, students must meet the following conditions in order to graduate:
College Cumulative GPA Requirement: cumulative grade point average (GPA) of credits attempted and completed at CLC must be at least 2.0;
College Technical Core GPA Requirement: cumulative GPA of credits attempted and completed towards the technical core of the diploma or degree must be at least 2.0;
Residency Requirement: students must complete 25% of their credits at Central Lakes College.
Employment Statistics
For more information regarding employment statistics, career salary information and estimated job growth, follow the resource links below:
https://apps.deed.state.mn.us/lmi/ces/
http://www.bls.gov/ooh/home.htm
http://www.iseek.org/jobs/jobmarket.html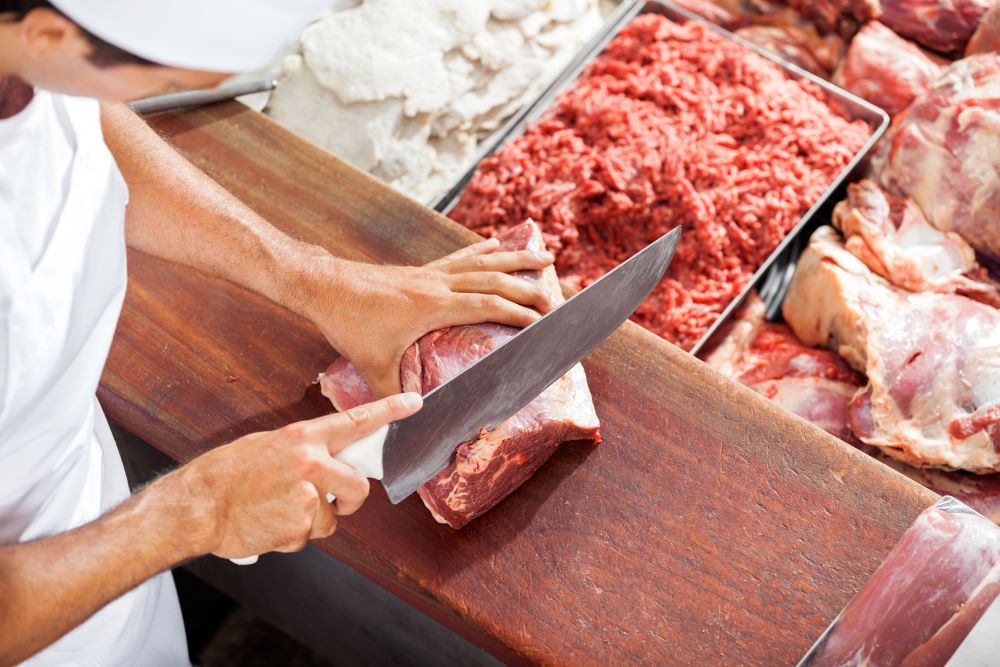 Program Course Requirements
MCAB 1101 Meat Cutting, 3 cr
MCAB 1103 Value Added Processing, 3 cr
MCAB 1105 Food Safety and Sanitation, 2 cr
MCAB 1107 Meat Industry Communication, 1 cr
MCAB 1109 Full Service and Retail Meat Cutting, 2 cr
MCAB 1111 Food Animal Processing, 3 cr
MCAB 1113 Internship in Meat Cutting and Butchery, 2 cr
GRADUATION REQUIREMENTS – 16 CREDITS