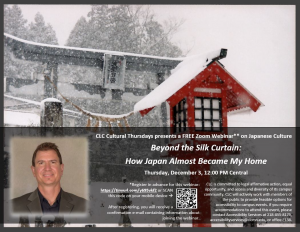 Central Lakes College Cultural Thursdays program will be hosting a free Zoom webinar on the Japanese culture. The presentation entitled "Beyond the Silk Curtain: How Japan Almost Became My Home" will feature Environmental  Studies Instructor Jason Edens and will take place on Thursday, December 3 from 12:00 – 1:00 p.m.
Jason Edens spent four years living in rural Japan as an employee of the Ministry of Education. Charged with developing English curriculum for public rural high schools, he had the opportunity to visit countless communities around Japan and peer behind the silk curtain. Based in Fukushima, Japan, Jason nearly made Japan his permanent home. Join the conversation and learn about the myths and mysteries of Japan.
To pre-register for this event, please go the following website and enter your name and e-mail address: https://tinyurl.com/y695vkf2
You will receive a confirmation e-mail containing the link to join the webinar.
For more information about this presentation or the Cultural Thursdays Program, please contact Tracey Kloeckl-Jiménez at 218-855-8183.