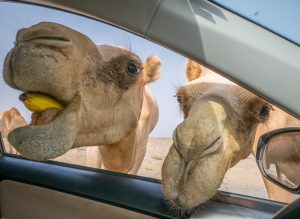 Central Lakes College's Cultural Thursday series continues with a gripping presentation on Oman, located on the southeastern end of the Arabian Peninsula. CLC Sociology instructor Gary Payne and his wife, Pine River K-12 teacher Mary Rosenberg, will present on their latest trip to Oman and on some of the changes people in that country are experiencing. The presentations will be at noon and 7 p.m. on Thursday, Oct. 5 in lecture hall E354, Brainerd campus.
The pair recently returned from a 4,200-kilometer road-trip through the Middle Eastern nation of Oman, an Islamic nation moving quickly toward economic and gender equality. They gathered many images and facts on the Omani people and have had a chance to reflect on their experience.
The CLC Videography Program will also make this presentation available via their YouTube streaming channel during the noon presentation.
For more information on this presentation or the Central Lakes College Cultural Thursdays Series, please contact Tracey Kloeckl-Jiménez at 218-855-8183