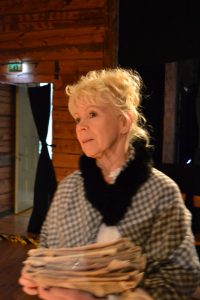 The Finnish company Theater Fiasko will perform 'The Reading Room,' a one-act play based on a short story of the same name, written by local writer Ann Toumi. The single performance will be at 7 p.m. on Tuesday, September 26 in the Chalberg Theatre on the Brainerd campus of Central Lakes College. Admission is free on a first-come basis; a free will donation will be accepted at the door.
The play's theme emphasizes the Finnish immigrants' experience, their sorrows in leaving Finland, and their attempts to adjust to an unfulfilled life in America. The story's point of view is revealed from the perspective of a teenage girl, whose first job is in "The Reading Room" of the Duluth City Library, circa 1968. Two Finnish men, whose unfulfilled dreams as emigrants led them to a homeless existence and long days spent in the safe haven of the library's reading room, represent the many immigrants who ended up alone and homeless in Northern Minnesota. The men's poverty and loneliness intrigues the young girl, who develops compassion and empathy for these solitary immigrants.
The production of this play is likewise intended to commemorate Finland's 100th Birthday and the lives of so many Finns whose hearts always remained in Finland, despite their dreams of building a new life in America. It will be a featured part of Finn Fest in Minneapolis on September 22-24, and moves to performances in Duluth and Superior, WI the following weekend.
"We've sponsored this theatre company on two other occasions," said CLC Theatre director Patrick Spradlin. "They've performed original work, adaptations of Finnish tales, and were part of a tour of local writer Donna Salli's play 'The Rock Garden.' We took that production to the Iron Range and Upper Peninsula of Michigan. I'm so glad they're returning, and with Ann's play this time."
Ann Toumi, long-time resident of the Brainerd Lakes area, is the playwright for 'The Reading Room.'
Ann holds the post of University Instructor of English for Academic Purposes at the University of Eastern Finland, Joensuu. She's taught there since 2007. Prior to that, Ann was an adjunct instructor of German, English and Holocaust Studies at Central Lakes College from 1995 to 2011, and also taught German, English, and ESL at Pequot Lakes High School from 1985 to 2006.
Fiasko is an amateur theater ensemble, founded in Joensuu, North Karelia, Finland. Since its inception, Fiasko has remained rooted in North Karelia as a highly ambitious and creative theater ensemble which to this day includes its original founding members as well as a new generation of amateur actors. Over the years, many of Fiasko's members have performed in various film and television productions in addition to roles with other theater ensembles both in Finland and abroad. The troupe has traveled to over 15 countries, including Japan, India, Pakistan, Russia, Iceland, Cuba, Venezuela, Nepal and the United States.
Fiasko's representation of history is varied as can be seen in its repertoire spanning 36 years and performances around the world. Fiasko has performed Goethe's Faust, Dumas' The Three Muskateers, Shakespeare's Hamlet and A Winter's Tale, as well as Samuel Becket, Eugene Ionesco, Comedia del Arte, Finnish surrealism, and adaptations of Karelian and Indian Folklore, in addition to contemporary and original works created by Fiasko's members. Fiasko is well respected for its courage to grasp new challenges with enthusiasm, including performances in English, Swedish, Finnish, other languages and pantomime.
Patrons are reminded that the performance is free and open seating. It is recommended that audience members arrive at least 15 minutes prior to the show for best seating availability.