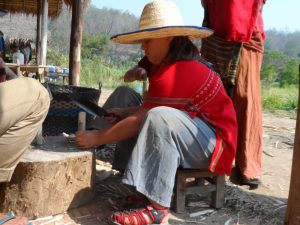 Central Lakes College is kicking off another year of its Cultural Thursday series.
The Cultural Thursday events were started more than 15 years ago as a way for students and community members to learn more about other countries, global regions, people and cultures. The presentations typically occur on the first Thursday of the month from September to December and again from February to May.
Coming this semester:
Thursday, Sept. 1 at noon in Chalberg Theatre, Brainerd campus.
CLC instructor Lori Beth Larsen and her 10-year-old daughter, Maritza, will be giving a presentation titled "A Southeast Asia Duet in Discovery." On Jan. 6, 2016, the pair traveled from a very cold Minnesota to a very hot Singapore. They spent the next nearly four months travleing through Singapore, Malaysia, Thailand, Laos, Vietnam, Cambodia and Indonesia. At the event, they'll be telling stories of their adventures, including training as mahouts in an elephant spa, pampering a baby elephant, taking a nine-hour bus ride through the mountains of Laos, spending two days on a slow boat on the Mekong River, and much more. Find out why this duo has already started planning their next adventure.
Thursday, Oct. 6 at noon and 7 p.m. in CLC Lecture Hall E354, Brainerd campus.
CLC Sociology instructor Gary Payne will give a presentation titled "Iceland: Harsh Beauty, Happy People" where he will share some of his photos and observations of his recent trip to Iceland.
Thursday, November 3 at noon in the Chalberg Theatre, revered Ojibwe artist and author Cheryl Minnema will share some of her insights and creations within the realm of the Ojibwe culture.
Thursday, December 1 at noon in the Chalberg Theatre, local community members and students who have immigrated to central Minnesota are invited to take part in a panel presentation titled "On Being an Immigrant."
Please contact CLC Cultural Thursdays coordinator Tracey Kloeckl-Jiménez at 218-855-8183 or at tkjimenez@clcmn.edu if you have any questions or suggestions.