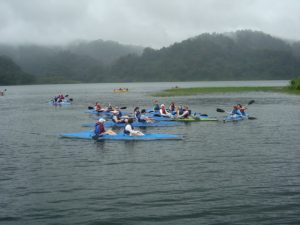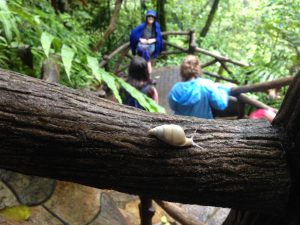 Community members and students are invited on a travel study to Costa Rica with Central Lakes College.
The trip runs from March 10-19, 2017, and is lead by CLC instructors Kari Frisch, Tracey Kloeckl-Jiménez and Dave Kobilka. This is a Global Studies interdisciplinary program, including studies in Intercultural Communication, Spanish Language/Culture and Earth Science.
The trip through Costa Rica includes many iconic stops, including: the capital city of San José, Tortuguero National Park (the site of the renowned sea turtle nesting grounds), the Sarapiqui rain forest (with a canopy tour zipline experience), the Arenal Volcano area (including kayaking on Lake Arenal), a cocoa plantation, thermal water pools in the Baldi Hot Springs, the Rincón Vieja National Forest, and the Pacific Coast in the Guanacaste beach area.
Traveling the country is an experience you will never forget, mostly because every turn is something new and interesting, according to Earth Science instructor Dave Kobilka.
The three instructors for the course will prepare travelers, through the lens of their own specialties and collective travel experiences, to observe and absorb all that Costa Rica offers.
Kloeckl-Jiménez said this travel-study experience is accessible to all levels of Spanish-language learners, including those who are just beginning.
"During the four class sessions before the trip, we learn the basics," she said. "We continue to experience the language on tour and have a chance to practice at different sites with different folks in Costa Rica according to our level of proficiency!"
CLC Intercultural Communication instructor Kari Frisch says that international travel "truly opens one's eyes not only to the wonders of other cultures but to those of your own culture as well."
This package includes airfare, double-occupancy lodging, park entrances and scheduled activity fees, and three meals a day (except lunch on our one "free" day where participants are encouraged to explore town on their own or in small groups). There are two ways to participate in this travel opportunity: as a credit-earning student or as a "community participant." Space is limited and preference given to those that will sign-up for the 3-credit travel study course in CLC's Global Studies Department. The course is GLST 1491: Global Studies Experience International Travel Costa Rica.
For more information on the tour or how to register, please visit: http://costaricawithclc.weebly.com/about.html
For complete itinerary and payment information visit: www.explorica.com/CentralLakes-255
For more information on this CLC Costa Rica travel opportunity, please contact Kari Frisch 218-855-8167, Tracey Kloeckl-Jiménez 218-855-8183 or Dave Kobilka 218-855-8233.