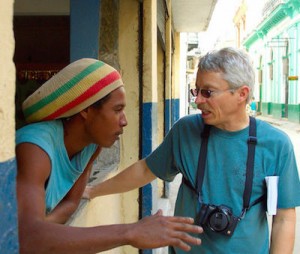 Central Lakes College instructor Gary Payne will present on Cuba for the semester's first Cultural Thursday event.
Payne will hold two presentations: One at noon and another at 7 p.m. on Thursday, Sept. 3 in lecture hall room E354, Brainerd campus.
The noon presentation on the turbulent history and politics of Cuba will last 50 minutes and the 7 p.m. in-depth presentation will be 90 minutes.
Payne has toured Cuba three times over the last two decades, and will use the digital images he has gathered to demystify the story of this controversial nation. Payne has visited most of the nations south of the U.S. border and finds that Cuba's people are healthier and more educated.
Payne's Cuba presentation is drawn from his Race, Ethnicity and Oppression class at CLC and was first presented years ago in a Cultural Thursday presentation. It has been updated to address events at the U.S. naval base at Guantanamo and the involvement of organized crime in several attempted assassinations of Fidel Castro.
With the U.S. travel ban to Cuba recently lifted, CLC is offering a tour for local residents and students to the beautiful island nation in Spring 2016.
For more information on this or other Cultural Thursday events, contact Tracey Kloeckl-Jimenez at 218-855-8183.