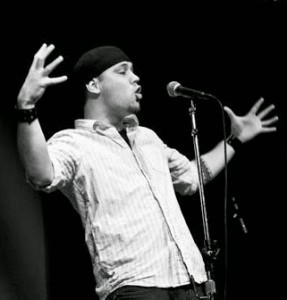 He's popular across the state and nation, and on Sept. 2, Guante will be at CLC for Student Success Day. He's a hip hop artist, two-time National Poetry Slam champion, activist, educator and writer.
Check out this quick Q&A with Guante:
1. What is one message you really want CLC students to take away when you're here?

A lot of what is routinely framed as "social justice" really boils down to perspective and empathy– the ability to see the bigger picture (in terms of history, systems, multiple variables, etc.) and then also care enough to do something about it. I think that confronting racism, sexism, homophobia and oppression of all kinds can really transcend personal politics. And art is such a natural entry point for those conversations– a lot of the work that I do is about attempting to put a human face on issues that are sometimes controversial and divisive when they're only talked about in abstract terms.
2. Are there any unique challenges CLC students/central MN student face when it comes to racism, feminism, and other social justice issues? Or are there any unique challenges students of a 2-year college might face?
I think you'd have to ask the students themselves, haha. I wouldn't be qualified to answer. But I can speak from the perspective of someone who is from the small-town midwest, and as someone who moves through the world as a straight, male, white (well, mixed but at least visually white) person who likes to have these conversations. It can definitely be a challenge, not so much because people are terrible, but because people are comfortable, or just want to avoid conflict. So there can be a lot of resistance. But the beautiful thing that I've found is that for every person who is super defensive, there are plenty of other people who have been dying to have these conversations, but just hasn't found an outlet yet.
3. For someone who feels they are experiencing any of those issues, what is your advice?
I can't give advice to people who are experiencing oppression. I can only speak from my own perspective. The closest thing I could maybe talk about is related to the last point– when attempting to talk about or work on these issues, and you experience resistance or feel alone and overwhelmed, the key is really to find and build community. Doing it alone will burn you out. I'm really interested in solidarity, in the power that we have access to through formal and informal communities.
4.  What can students expect when they sit down to hear you talk?
I usually use poems as jumping-off points for what I hope can be conversations about these issues. With a big audience, that can be difficult, but I want to keep things as interactive and audience-oriented as I can. I'm not a "motivational speaker," haha. I'm not here to present all the answers. I try to just ask interesting questions, and tell my story, in the hopes that it will spark some critical thought.
5. Where does your inspiration come from in writing your work?
It's not a very glamorous or magical answer, but I'd say Twitter. And Facebook. And watching the news. My inspiration comes from the immediate real world; I've never been the type to go isolate myself in a cabin for six months in order to write. I go to events, talk to people, try to exist authentically in my community. If you do that, you'll never run out of things to write about.
* Want a sneak peak of a Guante performance?
https://www.youtube.com/watch?v=PJSa3_55H_k&feature=youtu.be
Check out more: www.guante.info