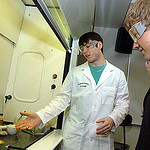 Come learn about several CLC programs at a free Career Information Night from 5-7 p.m. Tuesday, June 16 in the cafeteria of the Brainerd campus.
Get more information on the following programs: Criminal Justice, Dental Assisting, Nursing, Computer IT (RITA Grant), Honors Department/General Studies, Healthcare Admin and the AME Grant (Manufacturing Careers).
"Central Lakes College offers many exciting career paths and we want to share what those career paths are and how those in the surrounding Brainerd area can achieve them," said Andres Freeman, a recruiter in the Admissions Office at CLC. "Our faculty and staff really want it to be known that we are here to help students achieve their goals, even if they don't know what they want to do yet."
There will be prizes will be given out at the event, and food and beverages will be provided.
For more information regarding Career Information Night on Tuesday, June 16, contact Andres Freeman at afreeman@clcmn.edu or 218-855-8161.