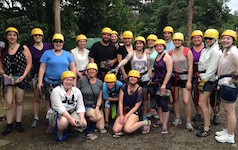 During the week of Spring Break, March 9-15, a group of 23 Central Lakes College (CLC) students, faculty, and community members traveled to Costa Rica for a Global Studies class. The itinerary and tours were arranged by Education First (EF) who provided our bilingual tour guide, Carlos, and very capable bus driver Walter ("Apa") for the week.
We began our excursion by flying into San José, Costa Rica. After one night in the capital city, we traveled by bus and boat to Tortuguero National Park on the east coast of the country. Costa Rica is known for its diverse ecosystems. We spent two days in the rainforest of this national park observing the local wildlife by boat and visiting local shops and restaurants in the village of Tortuguero.
We were fortunate to see a great number of wildlife creatures everywhere we traveled. These creatures included: the Howler and White-Faced Capuchin monkeys, three-toed sloths, coatis, tiger herons, Scarlet Macaws, a Chesnut-Mandibled Toucan, hummingbirds, a Giant Blue crab, the Green Iguana and the Ctenosaur Iguana, Basilisk Lizards, American Crocodiles, the Blue Jeans poison dart frog, the red-eyed tree frog, Golden Orb Weaver spider, the Postman, Owl and Blue Morpho Butterflies, Leafcutter Ants and the Hercules Beetle as well as many others.
The next city we traveled to was Sarapiqui in the north central part of Costa Rica. Here we went on a nighttime walking tour of a reptile garden, where we were able to get up close and personal with snakes and poisonous frogs among the trees and flowers unique to the rainforest. The walking tour concluded with us being able to snack on some cooked grasshoppers, which some students thought tasted surprisingly good. Just west of Sarapiqui, we went ziplining through the rainforest canopy and then we saw a pineapple nursery where we had a chance to see and taste the different fruits and vegetables that are grown in Costa Rica, including heart of palm, sugar cane, turmeric, soursop and cocoa.
In La Fortuna, we hiked trails along the Arenal volcano which is the most active volcano in in Costa Rica. It had a deadly eruption as recent as 1968. We kayaked and swam in the Arenal Lake, and walked around the La Fortuna waterfall which is 200 feet tall. There was also a demonstration at a local coffee shop on what makes certain Costa Rican coffees superior. We were also delighted to partake in a demonstration at a cocoa plantation on the history and process of making chocolate, where we all got to create and sample our own chocolate delicacies. Our two night stay in La Fortuna concluded with our being able to unwind in the 25 Baldi Hot Springs, which are heated naturally by the nearby volcano.
The final two days in Costa Rica were spent in Guanacaste located on the west coast of Costa Rica and out of the rainforest region. The climate there is much dryer. We had a boat tour of the Palo Verde River in Palo Verde National Park to see more wildlife. Upon our return to the Ocotol resort, we then took a boat to a natural reef in the Pacific Ocean for snorkeling on our last day in Costa Rica.
For our return flight, we flew from Liberia, Costa Rica to Atlanta, Georgia, where we occupied a long layover by taking a guided bus tour of the historic downtown areas of Atlanta before flying back to Minnesota. We stopped by the CNN headquarters and were grateful to be able to visit the Martin Luther King, Jr. National Historic Site (which includes the birth of Martin Luther King, Jr., his gravesite and the Ebenezer Baptist Church). After the week of travel, we found that we had made new friendships with each other, and many of us are looking forward to another trip next spring.
CLC is currently planning an interdisciplinary Global Studies trip to Cuba for this coming March of 2016 Spring Break. Another trip to Costa Rica is also being planned for 2017. For more information on either travel/study course/tour, contact Tracey Kloeckl-Jiménez, CLC Spanish Department 218-855-8183.
By Tracey Kloekl-Jiménez and Micki Czech