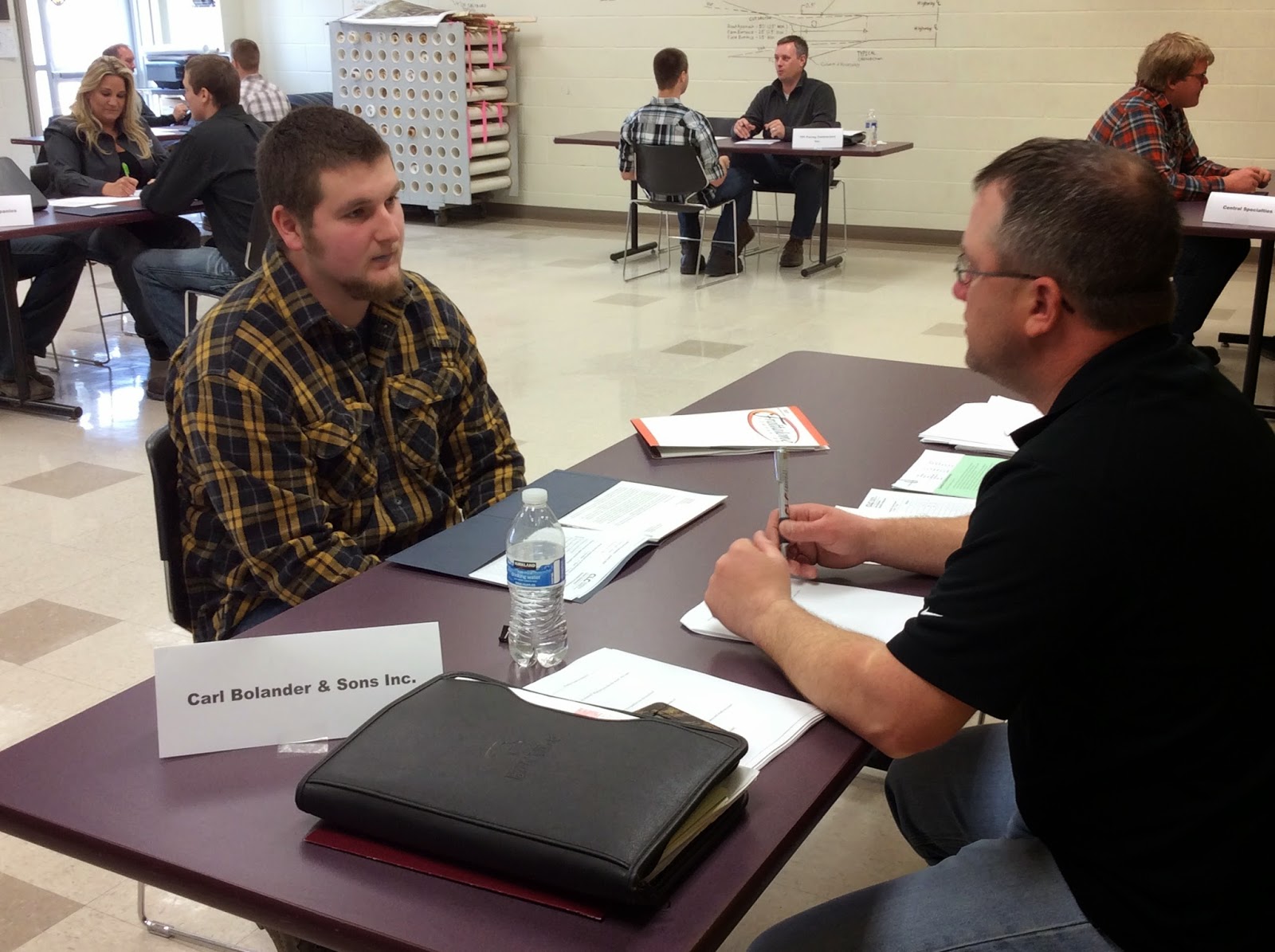 Nearing
graduation, Central Lakes College student Jared Koponen will soon need a job.
Thanks to a
program at the college, Koponen, along with 50 of his fellow classmates, got
the chance to sit down with a handful of potential future employers for a one-on-one
interview.
It's called
Interview Day, and the Heavy Equipment Operation & Maintenance Program at
CLC's Staples campus has been hosting it since 2007.
Here's how it
works: Contractors from across the state and region convene on the Staples Heavy
Equipment Operations campus for one day. Each student gets six or seven
20-minute interviews with different companies.
"(Contractors)
need employees. They know they'll get good students here who could go work for
anybody," said John
Maleski, Heavy Equipment instructor.
He added, "Today
will change (the students') lives. Probably within the next week, they'll get
an offer to go work someplace or have a follow-up interview."
Interview Day
has grown from pulling in 10 contractors in its first year, to nearly 30 this
year.
By the end of
the day Wednesday, 258 interviews took place.
For Koponen, who
is graduating in July, Interview Day is an opportunity to see what contractors
are out there, what they have to offer him and a chance to ask questions.
"I want to
travel and have different experiences," he said. "This gave me a little
confidence to talk to (employers) and help me figure it all out."
Fellow classmate
Jaret Sandberg said it was a little intimidating to chat with so many potential
employers, but he was glad he did.
"It will help me
find a job," he said.
There's an
increasing need for skilled workers in the Heavy Equipment field, Maleski said.
"We have 15 graduating in May, but I could put 100
to work. There's that many jobs," he said.
One contractor
even drove five hours just to interview students.
"Most of them
are here to hire; they're looking for future employees," Maleski said.
Students Austyn
Christiansen and Joe Paakkonen were glad they got to talk to so many employers.
"We got to see
what's out there," Christiansen said. "What opportunities we can have."
In the week
leading up to Interview Day, English instructor Kate Porter helps the students
prepare resumes and cover letters, as well as practice their peer review and
interview skills.
Interview Day is
vital for the students about to graduate, she said.
"It's real life
and it gives them confidence," she said. "But they are more vulnerable then
they've ever been. That's good for them to experience."
While the
students get a front row ticket to see some of the best companies in the
region, it's the employers who say Interview Day is important on their side,
too.
Norm Everson, of
Carl Bolander & Sons
in St. Paul, said it's valuable to sit down with a potential future employee
and have a conversation with them.
"It gives you a
chance to see their personalities, to read them," he said. "But you can't judge
only on that. You have to hire on experience and skills, too."
Just a couple of
hours into the day, Everson had two students he would hire.
Everson sits on
the advisory board for the CLC Heavy Equipment Operation & Maintenance Program.
"The program is
our future," he said. "The people that come out of this program have leadership
skills and abilities."
Contractors at
the interview day:
Anderson Brothers,
Arvig Communications, Bohlman Trenching Service, C. S. McCrossan,
Carl Bolander & Sons, Central Specialties,
Ellingson Companies, FPI Paving, Frattalone Companies,
Gladen Construction, KPH (Kindred Plumbing & Heating), Knife River, Landwehr Construction,
Martin Marietta, Mathiowetz Construction,
MN Dirtworks, M R Paving & Excavating, Peterson Companies, R J Zavoral & Sons, Rachel Contracting, S J Louis Construction, Sellin Brothers,
Steinbrecher Construction, Strata Corp., Tri City Paving,
Veit Contracting, Wm. D. Scepaniak.
*Some contractors who
attended in the past were unable to make this year's event.