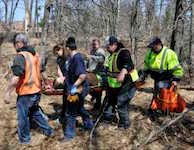 Did you notice the helicopter and other emergency vehicles swarming the CLC Brainerd campus this past weekend? It was part of a Wilderness Search and Rescue class held by CLC's State Fire/EMS School.
The full-scale training operation class focused on search and rescue techniques, and offered hands-on training for about 75 law enforcement, firefighters, EMS and area scouts.
Emergency responders first trained in the classroom setting, focusing on three fields: Search/rescue, EMS, and incident command. Then they get some in the field experience in the afternoon, conducting two scenarios along the college's riverbank and wooded area.
The Salvation Army was on-site to offer food to participants, who came from across the state, along with the surrounding counties of Crow Wing, Cass, Morrison, Todd and Wadena.
Eric Makowski Budrow, FIRE/EMS instructor, coordinated the training.
Check out the video the Brainerd Dispatch took of the event:
http://www.brainerddispatch.com/video/4167813345001
And watch Lakeland news tonight for a full story!