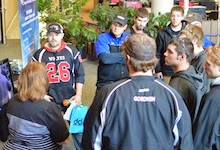 Several career
fields are hiring Central Lakes College students after graduation, and they're
actively recruiting them now.
At the Brainerd Community Job Fair Wednesday at CLC, dozens of
area companies got a chance to chat with students and community members looking
for a career or part-time work.
"(Manufacturing)
students will have jobs before they graduate," said Greta Smith, human
resources representative with Brunswick, a manufacturing company located in New
York Mills.
There's
a huge demand for manufacturing and production employees at the company.
That's
not unique to Brunswick, though. The need for manufacturing workers is
skyrocketing across the region, she said.
"It's
all about creating awareness," Smith said. "There are more openings than people."
And
the starting pay is above average, said Lynda Everson, human resources
representative with Brunswick.
At
DCI in St. Cloud needed are: welders, machinists, finishers, engineers,
drafters and designers.
"This
is a very good field and time," said Allison Waggoner, human resource, safety
and communications at DCI.
She
cautioned students to not overlook the career field.
"It's
a lucrative career and you will have jobs before you graduate," she said.
Another
key field that is in high demand for workers is health care.
"The
demand is continuous," said Pamela Fehn, administrator with Senior Class
Care in Nisswa and Pequot Lakes.
For
Senior Class Care specifically, part-time RNs, LPNs, CNAs and PCAs are
needed.
Other
health care companies need full-time workers, though.
Fehn
said the health care field is always a safe one to get in on.
"It's
endless," she said. "The demand is so high right now. We don't have enough
assisted living and nursing facilities for the people who are looking."
She
added, "You can get in at the entry level and go as far as you want to."
The
annual job fair pulls in more than 100 employment seekers every year. It
features companies and businesses looking for full-time, a part-time, or summer
work employees.