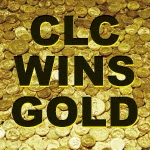 Winners Announced in the 29th Annual Educational Advertising Awards – CLC Wins Gold for Newspaper Advertising
Winners were announced in the Twenty-Ninth Annual Educational Advertising
Awards, sponsored by Higher Education Marketing Report. The Educational
Advertising Awards is the largest educational advertising awards
competition in the country. This year, nearly 2,000 entries were
received from over one-thousand colleges, universities and secondary
schools from all fifty states and several foreign countries.
The
CLC Marketing and Public Relations Office won a Gold Award for
Newspaper Advertising and also earned two merit awards in the categories
of Logo Design and New Media. The CLC team creating the winning
publications are Kenn Dols, Marketing and Public Relations Director and
Sasha Smith, Graphic Design Specialist.
Along
with Central Lakes College, six other Minnesota institutions won awards
in the competition including Augsburg College, Gustavus Adolphus
College, North Hennepin Community College, St. Catherine University,
University of Minnesota Duluth and Winona State University.
Gold
awards were granted to one-hundred and sixty institutions, and silver
awards were awarded to one-hundred and forty-six institutions.
Judges
for the Educational Advertising Awards consisted of a national panel of
higher education marketers, advertising creative directors, marketing
and advertising professionals and the editorial board of Higher
Education Marketing Report.
Higher
Education Marketing Report has been the nation's leading marketing
publication for higher education marketing professionals, for
twenty-nine years; read by thousands of higher education marketing
professionals.