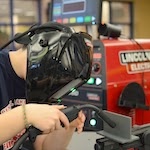 Brainerd • March 7, 2014
Verndale High School juniors Kylee Wright and Barbora Novotna are pretty sure about the job fields they want to join.
But on Friday, they got their first real feel for the health science field.
The Bridges Career Exploration Day was held at Central Lakes College. It pulled in about 2,100 students from 21 high schools in the Brainerd lakes area. There, the students heard from professionals in about 150 career fields, including agriculture, business, manufacturing and technology, communication, human services and health science.
Courtesy of the Brainerd Dispatch
by Jessica Larsen