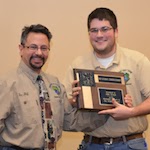 Student Conservationist of the Year
CLC student Tom Strack (Randall) won the 2013 Student Conservationist of the Year award from the Minnesota Chapter of The Wildlife Society. The award was presented at the Wildlife Society's annual conference held in mid February in Bemidji, MN. There were over 200 wildlife professionals and students in attendance at the conference and featured international Swedish conservationist Dr. Fredrik Widemo.


Viticulture/Enology Student Works at Award Winning Winery
Luke Sombke
(Mapleton) is a CLC VESTA student who is a candidate for the Elmer Swenson Scholarship. The scholarship will be awarded at the upcoming Minnesota Grape Growers Association's Cold Climate Conference. Luke works for Danzinger Vineyards which was awarded "Winery of the Year" in Wisconsin. Viticulture and Enology Science and Technology Alliance (VESTA) is a consortium of colleges, including Central Lakes College, Northeast Iowa Community College, Missouri State University, and Rend Lake (Ill.) Community College, and Redlands (Okla) Community College.
Welding Student and Instructor Win at Competition
Central Lakes College Welding Department traveled to New Richmond, WI to compete in the American Welding Society's( AWS) "Behind the Mask" district welding competition at Wisconsin Indianhead Technical College. Students and instructors competed in various welding processes throughout the day. Contestants were given 20 minutes to interpret a blueprint and fabricate a weldment to AWS specifications. Instructor David Otto received 1st place award in the professional GTAW (Tig) welding division. Student
Mitch Treichler
(Brainerd) received 1st place in OFC (torch cutting) division. Weldments were scored by AWS Certified Welding Inspectors based on proper fit, interpretation of welding symbols, appearance, quality of welds, and overall accuracy to the print. 125 competitors from six colleges from across Minnesota and Wisconsin participated at the event.
Students Receive Machine Trades Scholarships
Steve Poynter, from McKechnie Tooling and Engineering in Staples, awarded two machine trade scholarships to CLC students Samuel Williams (Brainerd) and Chris Breitenfeldt (St. Cloud). McKechnie is committed to encouraging and promoting manufacturing in the Staples area. This annual scholarship includes funds for tuition, a paid part-time position while in training and a full-time position upon graduation for two Machine Tool Technology students.