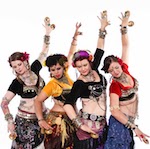 The March 6th Cultural Thursday presented at Central Lakes College will take us on a journey through an eclectic mix of Arabic, Turkish, Egyptian, Rajasthan and Spanish flamenco dance to present day ATS, American Tribal Style®. From the Elemental Studio, located in the Crossing Arts Center, four women from the group, Vespertine Tribal, will inform us of the history of the dances and music that have evolved into their 'Tribal Fusion' branch of what some have called, "belly-dance".
"This is a concept we wish to correct," explained Jessica Bleichner, a teacher and performer of Tribal Fusion. "These dances come from ancient cultures where women often did not have a means of self-expression. They would gather and dance, not for men, but for themselves. Today, these genres have come to the United States and taken on new styles. Ours is a very personal interpretation, demonstrated through our costumes and movements, as well as having the cultural roots."

The Cultural Thursday will be held on March 6th at noon in the Chalberg Theater of Central Lakes College. Jessica will be joined by Meggan Denny-Shepard, Noelle Bastian and Stephanie Kloss. The women will give us background on the dance, its costume, instruments and include a performance.

More information on Elemental Studios and these dances is available in the latest HER VOICE, Spring 2014 edition or online at:
www.
vespertinetribal
.com
Also, contact Jan Kurtz at
jkurtz@clcmn.edu
regarding this and other Cultural Thursday Events. Next month, April 3, CLC Instructor, Gary Payne, will present from his recent trip to the island country of Grenada.
Photo (Left to right)
Noelle Bastian, Stephanie Kloss, Meggan Denny-Shepard, Jessica Bleichner,
Photo credit: Billie Jo Photography