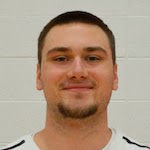 The Central Lakes College men's basketball team has been on a roll, having won their last four games since a 26 point loss to Mesabi at Virginia back in January.
While that loss may have been a low point for the Raiders, they bounced back and have now won five straight following a 78-62 win Wednesday night over Mesabi. With the win CLC also took over sole possession of second place in the Northern Division.
Alex Koch led all scorers with 25 points, and Quincy Bethea was next for CLC with 21. The Raiders also held the Norse to 62 points and Bacarius Dinkins, who leads the Norther Division with a 19.4 scoring average, to just seven points.
Courtesy of the Brainerd Dispatch