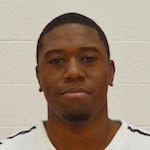 The Central Lakes College Raiders seized the lead with 30 seconds left and hung on to upset NJCAA Division III's third-ranked Vermilion Ironmen 70-68 in a Northern Division game Saturday.
Vermilion took a timeout, called a play, missed a chance to tie with 15 seconds left and the Raiders rebounded, giving CLC its sixth straight win.
The loss ended an 11-game win streak for Vermilion, which entered the contest with a 9-0 division mark and was 19-3 overall. The Ironmen had defeated CLC 69-62 Jan. 15 at Ely.
Alex Koch paced CLC with 13 points, followed by Bryan Gichaba with 12, Quincy Bethea 11 and John Jedneak 10. Marcus Brown (photo) came off the bench to add 11 points.
Courtesy of the Brainerd Dispatch