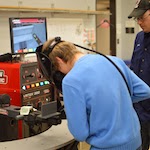 Central Lakes College hosted a career fair for 590 area high school students on Friday, January 31 at the Staples campus. The event showcased more than 20 career programs with hands-on demonstrations, simulators and informational sessions.
Eight high schools participated: Aitkin, Pillager, Royalton, Little Falls, Pine River-Backus, Staples-Motley, BHS-Area Learning, and Verndale.
Students selected four different sessions to attend from career fields like photography, videography, graphic design, machine trades, robotics, agriculture, diesel mechanics, heavy equipment, nursing, medical assistant, child development, welding, natural resources and horticulture.