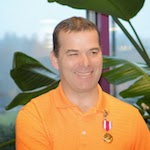 Dave Davis, Criminal Justice Instructor at Central Lakes College was recently awarded the Meritorious Service Medal. The Meritorious Service Medal (MSM) is a military award presented to members of the United States Armed Forces who distinguished themselves by outstanding meritorious achievement or service to the United States. The award was presented to Davis by Col. Scott St. Sauver, Camp Ripley Post Commander.
Davis joined the Iowa Army National Guard in 1984. He went to Infantry Basic Training in Fort Benning Georgia in 1985. He then joined the Active Duty Air Force in October 1986 as a Law Enforcement Specialist and attended Basic Training and Technical School at Lackland Air Force Base. Davis was stationed at Clark AB, Philippines and Nellis AFB, Las Vegas NV. Separated from Active Duty in October 1990, he joined the MN National Guard in March 1998 and was part of the Training Support Unit at Camp Ripley until he retired in Feb 2013.
It is rare for an individual to receive the Meritorious Service Medal with Davis's rank of Staff Sergent (E-6). The medal is typically given to senior non commissioned officers (E-7 to E-9), as exceptionally meritorious service at that level of responsibility is usually required for award of the medal.