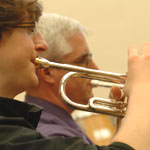 The Central Lakes College Music Department will present "By Request," an
instrumental showcase of what band members have chosen to play, at 7:30 p.m. May
8 in the Chalberg Theater on the Brainerd campus. This year's spring instrumental concert will feature the CLC Jazz Ensemble
and the Community Band. Featured jazz musicians to be featured in a six-song set are saxophone
players Mike Bender, Crosby; Dominic O'Reilly, Brainerd; Isaac Armstrong, Pine
River; and Chris Arvidson, New York Mills; drummer Anton Switajewski, Willmar;
trombone player Steve Anderson, Merrifield; trumpet player Sue Kavanaugh, East
Gull Lake; pianist Katherine Torbert, Little Falls; and guitarist Greg Botts,
Pine River.
The tunes include "Manteca" by Dizzie Gillespie, "Makin' Whoopee" by
Gus Kahn and W. Donaldson, "Concerto for Cootie" by Duke Ellington, "Jumpin' at
the Woodside" by Count Basie, "Take the A Train" by Billy Strayhorn, and
"Birdland" by Josef Zawinul.
The 56-member Community Band will perform six numbers and feature the
infamous trombone section in the opening "Lassus Trombones" by Henry Fillmore.
The finale is "Stars and Stripes Forever."
Admission to the concert is $5 for adults. CLC students with identification
and children 12 and under will be admitted free of charge.
There are no reserved seats and no advanced tickets sold. Seating
is first-come, first-served.
For information contact Anderson at (218) 855-8215 or
sanderso@clcmn.edu
Community
Band
Aitkin – Marie Gordon, Kyle Hanson.
Backus – Richard Salzwedel, Meredith Sternaman.
Baxter – Dave Borash, John Raboin, Robert Bauer, Bonnie Groneberg, Doug
Durant, Claudtette Kitzman.
Brainerd – Robin Myers, Adam Marcotte, Cameron Trott, Julie Mudgett, Cathy
Dens, Barb Stokke, JoAnn Norman, Kristina Myers, Joe McGown, Jennie Planer,
Brian Dyer, Nathan Bollig, Jon Crust, Ashley Deem, Jessica Dieter, Jim
Anderson, Jerry Swanson, Judy Swenson, Justin Jordan, Cassidy Trott, Carol
Ellerbush, Rick Fellman, Diana Fellman, Patricia Anderson.
Crosby – Mike Bender.
Deer River – Dick Gunderson.
Deerwood – Nicole McGillis.
East Gull Lake – Jennifer Fundine, Bob Allan.
Fort Ripley – Shantel Koering.
Little Falls – Katherine Torbert.
New York Mills – Chris Arvidson.
Pillager – Shawn Kobs.
Pine River – Sarah Jo Armstrong, Chris Bolstad, Frank Milo, Isaac
Armstrong, Bruce Kaiser.
Staples – Pat Ryle, Derek Prindle.
Swanville – Michelle Miller.
Wadena – Melissa Evans, Harriet Anderson, Drew Larson.
Walker – Darrel Rodebuhr.
Jazz Ensemble
Baxter – Kitzman.
Brainerd – Dominic O'Reilly,
Borash, Suzy Cavalier, Swanson, Durant, Bollig.
Crosby – Bender.
East Gull Lake – Kavanaugh.
Little Falls – Torbert.
Merrifield – Steve Anderson.
New York Mills – Arvidson.
Pillager – Kobs.
Pine River – Greg Botts, I.
Armstrong.
Swanville – Miller.
Willmar – Switajewski.