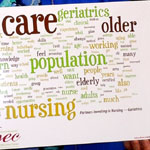 Did
you know that the population of persons over 65 years old in Minnesota will
more than double between now and 2035? In North Dakota, there will be move
individuals who are 65 and older than under18. In fewer than 20 years,
almost a quarter of both states will have celebrated their 65th birthday. Obviously,
these statistics have important implications for nurses that will be practicing
in both Minnesota and North Dakota. Connie Frisch, Central Lakes College director of nursing, and Staples Campus Associate Degree nursing students Michelle Hart of Wadena and Autumn Urbanski of St. Cloud, attended a gerontology enrichment event April 13 in Fergus Falls, where they joined nursing students from 10 other college and university programs in western Minnesota and eastern North Dakota to further develop expertise in geriatric nursing. The 55 students expanded their leadership skills as well
as their knowledge in geriatric nursing. Students had the
opportunity to network with students from other schools and participate in
learning activities that will contribute to strengthening their school's
curriculum in geriatric nursing. The event was sponsored by the Central Minnesota Area Health Education Center, whose mission is to strengthen the health professions
workforce in Central Minnesota through collaborations with communities and
academic partners that support life‑long learning and ensure a future
generation of health professionals.
The Students Investing in Nursing's Future – Geriatrics event was held at
PioneerCare in Fergus Falls, Minn. and hosted by the University of Minnesota
School of Nursing/Minnesota Hartford Center of Geriatric Nursing Excellence,
Central Minnesota Area Health Education Center (AHEC), and West Central
Initiative. It was supported through a grant from the Robert Wood Johnson
Foundation (RWJF) Partners Investing in Nursing's Future (PIN) program, awarded
to West Central Initiative.
The long-term goal of the PIN program is to
increase the number of registered nurses who are competent in providing nursing
care to elderly persons in a variety of institutional and community-based
settings in the Central AHEC region of Minnesota. The primary strategy to
achieve this goal is to ensure that schools of nursing in the region have an
intentional focus on geriatric nursing in their curriculum as well as faculty
who have expertise in teaching geriatric nursing. A unique aspect of this
strategy is that it will be done in partnership with long term care
facilities.
Topics included "Care Provider Self-Care: Compassion Fatigue
Management" led by Brad Skogen, Chaplain at Lake Region Healthcare in Fergus
Falls; "In Their Shoes" a progressive role play led by Vicki Teske, MS, GNP, BC,
Assistant Professor, MSU-M; and "Collaborative Care for the Aging Patient" with
a panel of healthcare professionals.
The evaluations reported a
highlight for many of the attendees was the topic "Wisdom and Reflections about
Aging" with Merrie Kaas, DNSc, RN, PMHCNS-BC, interviewing Elaine Olson from
Fergus Falls.
If you would like more information on PIN-G, please
contact Executive Director Laurissa Stigen, Central Minnesota AHEC,
218-736-1601.