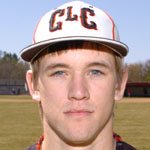 Dustin Motschenbacher and Trevor Woodruff combined for a 4-hit shutout as the
Central Lakes College Raiders ended the regular season Tuesday night with a 7-0
win over the St. John's University junior varsity in the second 7-inning game of a
doubleheader at Mills Field. Motschenbacher went four innings, with three strikeouts and three walks.
Woodruff struck out one and walked none in two innings. CLC's Taz Seibert was 2-4 with a run scored as CLC snapped a 9-game losing
streak.
Jaron Hanson was 1-3 with a double and two RBIs. Tony Madsen singled,
doubled, scored two runs, drove in two runs and stole a base. He also made several excellent plays in the field. In Game One, Seibert pitched a complete game and allowed just five hits in a
1-0 loss. The game's only run scored in the top of the seventh when Seibert hit
a batter with an 0-2 count and that batter eventually scored.
"That was typical of the season for us, we have zero margin for error," CLC
coach Pat Held said. "We played a very nice game. We played well in the field. Neither team made an error in the doubleheader."
Seibert finished with one walk and one strikeout.
CLC's only hits in the first game were third-inning singles by Josh Edwards
and Jared Hoemberg. CLC had runners at first and third and no outs and was
unable to score.
The Raiders (8-38 on the year) enter the Southern Division playoffs Friday as the No. 7 seed.
They will travel to Austin to play No. 2 Riverland in a doubleheader at 3 p.m.
Friday. If the teams split, a third game will be played at noon Saturday. Coach Held pointed out that CLC will have played as many games in Austin as in Brainerd this season. "It's our home away from home," he said. Winner
of the series advances to the Region 13 tournament May 10-12 at St. Cloud.