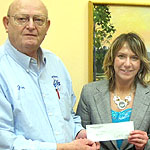 Nine local organizations reaffirmed support for the Central Lakes
College Veterans Resource Center Feb. 11 when representatives met to plan
assistance to veteran students struggling with housing, food, and
transportation needs. In the past few
months the school has seen a tremendous increase in financial hardships of
their veterans, service members and dependents. Some of this is due to Veterans'
Administration payments being later than normal. Another impacting reason is
people struggling to find jobs in an economy with such significantly high unemployment
rates. The community meeting featured presentation of a
$2,000 check from the Brainerd Elks in support of the organization's Fare for
All food program that functions in support of CLC veteran students. Jim Van Duyn of the Elks made the presentation to Kathy Marshik, coordinator of the Veterans Resource Center at CLC.
"This was our first such meeting, and the results were extraordinary," said
Kathy Marshik, who since November has served as coordinator of the center on
the Brainerd campus. She said the objective was to link the school and those
organizations that support veterans by building stronger relationships.
Representatives
from the Disabled American Veterans, the Purple Heart Association, Brainerd
Elks, Brainerd VFW, Crow Wing County Veterans Service Officer, DAV Auxiliary,
VFW Auxiliary
, Salvation Army and the Central Lakes
College Foundation were present.
Budgeting and financial assistance
programs were identified to developed and guide these students toward future
success.
"The
support of community programs, staff and faculty at Central Lakes College truly
must be commended," Marshik said. "When a veteran reports an issue or needs
assistance people diligently work together to resolve the matter."
Marshik cited two recent examples of support
that has spared veteran students facing dire circumstance.
In December, a veteran was about to
lose his heat and possibly home if he did not pay his bills. Between Marshik,
the Purple Heart Association and the CLC Foundation, this individual received
enough assistance to avoid a loss with just days before shut-off.
In January
another family was struggling with rent issues, no gas or food money. "With the
aid of the DAV and the CLC Foundation we were able to resolve these issues in a
few short hours," Marshik said.
"These are among the many examples
of how teamwork helps those in need. So many efforts have come together to
create stories of hope and success for the futures of our veterans."
To express gratitude to the many
organizations supporting veterans enrolled at CLC, students will be
volunteering time and skills to help with special programs.
"Central Lakes College is putting
together a color guard, which will march proudly alongside our veterans'
organizations in parades and community events," Marshik said. "It's important
to start building relationships among our generations of veterans. And it's one
way to give back to our community."
Another community event will be
held this spring. Any organizations wanting to join the team are welcome,
Marshik said. "Students and community veterans, service members and families
are encouraged to join us."
Central Lakes College is also
working with community organizations to assist veterans with education and
career searching pathways. There will be many events coming up this summer to
encourage successful futures through education at CLC.