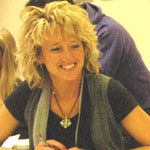 Chances are you or someone you know has a better job today thanks to a
skill-centered education designed to
sustain a technical career. Congratulations. Central Lakes College and other Minnesota colleges
and universities with career and technical education programs are observing
Career
and Technical Education Month
. Gov. Mark Dayton signed a proclamation citing
statewide awareness of the important training under way at public-supported
campuses. The list of career programs at the Brainerd
and Staples campuses of CLC provides proof that the community and technical
college stands out as a regional workforce partner. Examples: Brainerd campus –
Accounting, Administrative Assistant, Automotive Technology, Business
Management, Child Development, Computer Technology, Criminal Justice, Dental
Assisting, Horticulture, Marine and Small Engine, Medical Secretary, Natural
Resources, Nursing, Welding and Fabrication. Staples campus –
Communication Art, Diesel, Heavy Equipment, Machine Tool, Medical Assisting,
Nursing, Photographic Imaging, Robotics, Videography, Viticulture and Enology.
CLC is one of 32 public colleges and universities that comprise the
Minnesota State Colleges and Universities system. Together, the MnSCU schools
offer more than 3,800 programs on 54 campuses, as well as online.
MnSCU produces about
33,000 graduates each year. The system educates 86 percent of the state's new
law enforcement graduates and 82 percent of nursing graduates.
Within two years or less,
many CLC students acquire the credentials that get them in the door and on the
job locally and wherever they need to be for a living wage. Some of the
entrepreneurs with management training from CLC become business owners.
Two strong business career
programs at CLC are Accounting and Medical Secretary where instructors with
energy and experience prepare tomorrow's bookkeepers, auditors, financial
analysts, accountants, transcriptionists, medical billers and coders, office
specialists, and supervisors.
The Associate in Applied
Science degree requires 60 credits for graduation; diplomas (32) and
certificates (20) more quickly get the student into an entry-level post.
Two Accounting instructors
at CLC are new to the Brainerd campus this year, bringing practical experience
into their creative lesson plans. Certified Public Accountant Kristina Ehnert,
New York Mills, had been a senior accountant at Arvig Communication Systems in
Perham, and she majored in Accounting and Office Administration at Concordia
College, Moorhead. Prior to becoming a full-time instructor at CLC she had
served for six years in adjunct teaching capacity.
Salle' Crutaire, Foley, has a background in public
and corporate accounting. CPA Crutaire holds a Master's degree in Business
Administration and previously taught at Minnesota School of Business, the
College of St. Benedict/St. John's University, and St. Cloud State University.
Medical Secretary instructor Connie Vieths,
Pillager, is in her 37th year and has groomed more than 700 for
careers. Some of her former students remain close to the program, including three
as volunteers on the Advisory Committee. One of her protégés, Pam Nelson,
teaches the program's coding course.
"The program started in 1969 with Eileen Pettit
instructing," said Vieths, who is the second to be in charge. "We started with
IBM Selectric typewriters, then word processors, then computers," she said. Her
students have included two men, a one-handed typist, a sightless person, and a
paraplegic.
Susan Bremer of Brainerd is a second-year
instructor in the Medical Secretary program, bringing more than 16 years'
experience in health care. She has worked in a rural hospital as well as for a
major insurance company, independent clinic, and integrated health system. She
has held positions in registration, billing, capital campaigns, as an analyst and
in management.
Bremer holds national certification by the American Health Information Management
Association as a Registered Health
Information Administrator. She earned her Master's from the College of St.
Scholastica in Health Information and Informatics Management and is finishing a
second Master's in Information Technology Leadership.
One of Bremer's first contributions to the CLC
Medical Secretary program was the three-credit online claims management course,
Reimbursement Methodology.