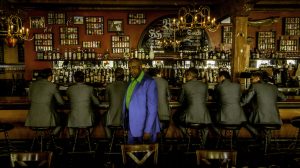 The Chalberg Theatre will be alive with the soul, gospel, and R &B sounds of Sonny Knight and the Lakers, a Minneapolis-based powerhouse band, performing on Friday, January 20. The show, part of the Central Lakes Community Performing Arts Center's Cultural Arts Series, begins at 7:30 p.m.
Vitality is defined as the power to live or grow, and perseverance pertains to the qualities of moving forward when an obstacle stands in your way. The music of soul man Sonny Knight brims with these essential life traits because he exudes them. Along with his 7-piece powerhouse band, The Lakers, the 68 year-old retired truck driver has created a sound that extends much deeper than throwback soul.
Knight's vast array of life experiences inform a worldview that give him a unique perspective on the song writing, expressive, and storytelling process. While he was enamored with gospel music during his youth, which eventually led him to recording his first single in 1965, he soon found himself exploring other opportunities. From a deployment in Vietnam to a job as a long haul trucker, that it hasn't been a linear path has made him a more attuned performer. Combining this hard-earned experience with a vivacious band whose members are half his age, the songs and performances are a perfect blending of observation, promise, and energy, thanks in some part to their collective globetrotting adventures playing for audiences of many different backgrounds.
After the band's 2014 debut album, I'm Still Here, came to fruition much sooner than anyone expected, Sonny Knight and The Laker's released a live double album the following year. Now, the band's sophomore studio set, Sooner Or Later, explores themes of overcoming adversity, love found, love lost, and societal observation. Where their debut might be likened to steering a bike before turning the pedals, considering how they wrote and recorded it before road testing their songs and individual strengths, their latest effort sees the wheels fully in motion.
With performances across the US and Europe in theaters, performing arts centers, festivals and night clubs, Sonny and the band have tightened their unity and discovered what each member brings to the table that can further the collective's playing. By doing so, the group was able to gain a greater understanding of what their best material was through performing it on the road night after night. What results on Sooner Or Later is a rarity by today's recording standards. Of the 10 songs that were taken into Secret Stash's brand new studio, all made the final cut. Rather than track a bunch of material and pick out the best parts later, Sonny and the band hit the studio knowing exactly what the record would be, perfectly encapsulating a snapshot in time for the artist.
By focusing less on so-called groove makers and more on the songwriting process, Knight and company harnessed the power of the different genres that came together to shape what we have come to know as soul music over the last 50+ years. Gospel, country, and blues were all melded into a record that takes you on a journey through life's questions and emotions via nine originals and a cover of Lonnie Mack's "Why."
In the past year Sonny Knight and The Lakers have collaborated with James Brown alumni Fred Wesley and Jab'o Starks, produced their own live soul revue for Minnesota Public Radio at The Fitzgerald Theater (home of A Prairie Home Companion), starred in their own PBS special (airing throughout the nation in early 2017), and released their sophomore studio album, Sooner Or Later. With a little help from his musical compatriots, The Lakers, it sometimes feels as though the sky is the limit for the retired truck driver/military veteran.
Tickets for Sonny Knight and the Lakers are available from the CLC box office, (218) 855-8199 or online at www.clcmn.edu/arts
The show is sponsored by Birchwood Therapy Services of Baxter.