Outlook – Conversations or Un-thread Emails
Your Inbox and other mail folders can be organized by date and arranged by conversations.  When conversations is turned on, message that share the same subject are grouped together and appear as conversations that can be viewed expanded or collapsed.  If your emails are all linked together and you want each email to come in individually, you would want to un-thread your email by shutting off conversations.
Click on the items by arrow

At the bottom under Conversations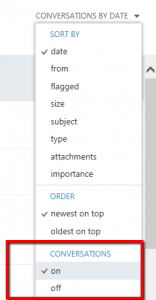 Click Off
Now each email will not be threaded into 1 email.  You will get a new email each time.