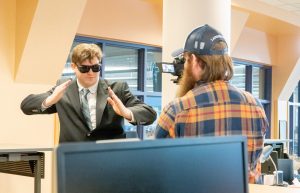 A short film created by a handful of Central Lakes College Videography Program alumni, along with their team, will be screened in several upcoming film festivals.  
The short film is called "P@ssword Pr0blems" and it will be screened at the following festivals:  
The Iowa Independent Film Festival on September 9 in Mason City, Iowa

 

The South Dakota Film Festival on September 16 in Aberdeen, South Dakota

 

The Sioux City International Film Festival between October 5 and 8 at Sioux City, Iowa

 
 "This whole experience of filming with former classmates and a current student at the place I graduated from really makes this a full circle moment," said Mitchell McCallson, a 2015 Videography graduate, who co-directed and co-wrote the film. "The fact that it got selected to film festivals and will be seen on the big screen is a testament to how special CLC is to all of us, and the impact it made on us as filmmakers."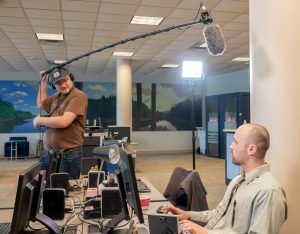 "P@ssword Pr0blems" was inspired by McCallson's own experiences with some of the absurdity that comes with multi-factor authentication. He pulled together some of his former classmates from the Videography program and some friends from his hometown of Royalton, and the group started collaborating to make folks laugh. After about eight hours of shooting at the college and 24 hours of editing, the 6-minute masterpiece was ready for screening. 
Brent Balmer, Sound Engineer, a 2015 CLC Videography graduate, and current CLC Audio Visual Education Specialist, said he enjoyed being able to work with former classmates, industry partners, and a current student. 
 "The CLC Videography program has impacted me personally and professionally," he said. "Personally it has made me more confident in my abilities as a videographer, and professionally by having knowledge and experience in the industry that I can educate current and future students on, to be the best videographers they can be." 
Josh Hammer, Director of Photography and 2016 CLC Videography graduate, said "Coming together and making short films with friends and amazing talent is enough on its own. Making great short films with peers is the bonus."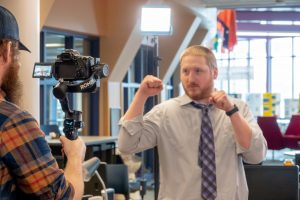 Brad Woidyla, an actor in the film and a former CLC student, added "My favorite part is honestly just making films with my friends. It doesn't matter how big a film gets. Just the time to make a fun and funny video with you guys is good enough for me… I hope to be making films with all of the team for years to come." 
Matthew Hill, an actor in the film and a 2023 CLC Videography graduate, said "My favorite part about working on 'P@ssword Pr0blems' was being able to watch creative professionals letting their imaginations run wild, creating an enjoyable atmosphere where everyone felt free to exchange ideas." 
Watch the short film: https://youtu.be/JJX64H0Vqu8 
 The cast and crew: 
Mitchell McCallson – Director, Writer, "Assassin" – CLC Videography graduate 2015

 

Brent Balmer – Sound Engineer – CLC Videography graduate 2015 – CLC Audio Visual Education Specialist

 

Josh Hammer – Director of Photography – CLC Videography graduate 2016

 

Matthew Hill – "Steve" – CLC Videography graduate 2023

 

Lucas Snyder – Writer, Co-Director – Graduated from UMD

 

Brad Woidyla – "Isaac" – CLC Student 2013-14

 

Leah Rathe – Stunt Coordinator – Graduated from Hamline 2018

 

Elizabeth Gohmann – "Love Interest"