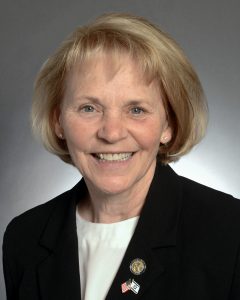 The community is invited to attend the next Rosenmeier Forum, which focuses on legislative redistricting, at 7 p.m. on Tuesday, March 22 in the Chalberg Theatre, Brainerd campus. The event is free and open to the public.
Speaking will be Minnesota Senator Mary Kiffmeyer. Kiffmeyer, a Pierz native, represents Senate District 30. She is currently serving as chair of the State Government Finance and Policy and Elections Committee, vice chair of the Redistricting Committee, and as a member of the Finance Committee, Transportation Finance and Policy Committee, and the Judiciary and Public Safety Finance and Policy Committee.
Steve Wenzel, Executive Director of the Rosenmeier Center for State and Local Government, said "Senator Kiffmeyer brings a wealth of knowledge and experience to the key issue of legislative redistricting. We know that she will greatly inform the community of the 'why and how' decisions made by the Minnesota Judicial Panel on redistricting that was handed down on February 15."
Legislative redistricting is the process that both begins and ends legislative careers and the decision handed down by the judicial panel on February 15 pitted many incumbent legislators, both House and Senate, into the same district and created unusual district boundaries.
Kiffmeyer has a long record of public service. She served as Minnesota's Secretary of State from 1999 to 2007, as a member of the Minnesota House of Representatives from 2008 to 2012 and has served in the Minnesota Senate since 2013. While serving as Secretary of State, Minnesota ranked number one in voter turnout for all eight years of her term. Mary was nationally recognized with the LeeAnn Elliot Excellence in Election Administration Award, was chosen by the Women of Today organization as Minnesota Woman of Today, served as President of the National Association of Secretaries of State, and as President of the National Electronic Commerce Coordinating Council.