At Central Lakes College, we are proud to put our students center stage by featuring them as our commencement speakers! We have three student speakers this year. Here, we sit down with Ben Schlegel, Brainerd Student Senate President, to learn more about him.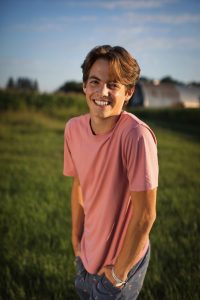 Tell us about you!
I am the little brother to my "big bro," a son of two wonderful parents, an admirer of kindness, a lover of Jesus, a Brainerd kid, a country boy at heart, and a CLC & BHS Student!
Why did you choose to attend CLC? 
I chose to attend CLC because I truly wanted a brighter future, and CLC is clearly the way to go if you desire that!
 What was it like attending college and high school at the same time? Would you recommend it to others? 
This is a wonderful question- I pretty much sacrificed my upperclassmen years in exchange for the CLC vibes (besides the Tennis season at Brainerd High School). This was not a mistake in my opinion. I love CLC; CLC has done so much to enhance me in so many ways. Would I recommend it..? I'd say it is extremely situational. As for me and my life… I would 100% do it again if I was given the same opportunity!
How has your time and experiences at CLC shaped you or changed you? 
There is a Proverb I love that says "As iron sharpens iron, so a person sharpens another." This is the reflection of what CLC has done in my life. CLC has taken this dull-ish blade (me), and given it a sharpening that I could not have received anywhere else; I truly mean that. The brilliant minds at CLC that have developed me as a person, yet letting me remain true to myself, have left a wonderful chapter in the story book of my life. I am so truly grateful.
You've done a lot during your time at CLC. What are you most proud of? 
I am most proud of the moments I share with the people I care about at CLC. In short: the hallway walks. It has to be the hallway walks. Walking and talking with either my peers or with galaxy-mind professors- the hallway walks will be little, yet big, memories I will take with me my entire life. 
What's next for you? 
I, well, am not entirely sure as of this moment. I will perhaps be going to another University, taking online College classes, or simply pursuing a full-time career in the field of social-media: all has yet to be decided. I am stoked for what God has in store for me!
Where do you see yourself in 10 years? 
I pray I may be found humble here, but I see myself leading a generation back to peace, joy, and real love for our neighbors… what that looks like: I have yet to know!
 Advice for future students? 
There is a quote that I will never forget from one of my professors, and it is this: "Too often we take classes to get rid of them."
With that in mind: read your textbooks. Schedule time to read them. I know it sounds pretty not rad… but trust me. You can either get nothing out of your classes- or find yourself becoming brilliant… simply by taking the initiative of actually reading what you are assigned (and what you aren't assigned too! #bonus). This is my biggest tip and biggest regret, I wish I took intentional time to read all I had in front of me.