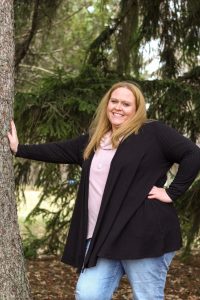 At Central Lakes College, we are proud to put our students center stage by featuring them as our commencement speakers! We have three student speakers this year. Here, we sit down with Honors Program speaker Desirae Rhodes to learn more about her.
Tell us about you!
I was born in Grand Forks, ND. I am the middle child of three. I have three children, a girl age 14 and two boys ages 13 and 7. My partner and I love to take the kids out on adventures during the summers. We fish, hike, and ride the trails. Personally, in my free time, I love to curl up in my chair with a cup of hot peppermint tea and lose myself in a good book.
According to your bio, it had been 15 years since you last attended college. Why did you decide to come back? 
It was a mixture of things. I was tired of being passed over on promotions at work and knew the lack of higher education was the main reason for it. I always promised myself that when my youngest child started school, I would go back to school (and yes, that is what I did…). Plus, with my first time around ending in failure, I wanted to prove to myself that I could do it.
Why did you choose to attend CLC? 
I knew I wanted to have tangible classes and a support system this time around. Since I live in the Brainerd lakes area, it was the only logical choice. Now, I wish it was a four-year institute because I love the community of the college. I will definitely miss everyone!
How has your time and experiences at CLC shaped you or changed you? 
It has definitely made me realize I hate business and economics (Sorry, Hopps)! In all seriousness though, I think everything that I experienced at CLC really let me find myself as a person. They made me realize how passionate I am about education and art. These were all aspects of myself that I had long forgotten.      
You've done a lot during your time at CLC. What are you most proud of? 
I am proud of everything I have done, but I think my work with The Bent Pine is probably the one the trumps the rest. My peers and I created a legacy for the college that allows a space for everyone to express themselves. That is an amazing feeling to know that you will be leaving your institution having left a mark like that on it.
What's next for you? 
I will start my junior year in the fall at Bemidji State University. I will be majoring in psychology and minoring in Sociology.
Where do you see yourself in 10 years? 
I hope to have obtained my master's and established a career in education for sure! Maybe travel a little more, since my kids will be out of the house.
Advice for future students? 
You are not alone in this, so never feel ashamed about asking for help. The administration, faculty, and staff at CLC are a very special group people that will bend over backwards to make sure you succeed. All you need to do is ask!