At Central Lakes College, we are proud to put our students center stage by featuring them as our commencement speakers! We have three student speakers this year. Here, we sit down with Wade Hofius, Staples Student Senate President, to learn more about him.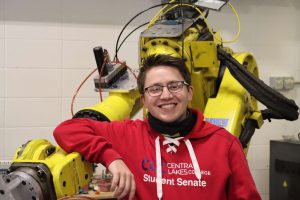 Tell us about you!
I'm from Red Wing MN.
Why did you choose to attend CLC? 
A high school shop teacher told me about the college and said that I would enjoy it more than a four year college and he was right.
How has your time and experiences at CLC shaped you or changed you? 
It was great and I made many memories in the last two years.
You've done a lot during your time at CLC. What are you most proud of? 
Becoming Student Senate President.
What's next for you? 
Work for a few years and start a business.
Where do you see yourself in 10 years? 
In ten years I see myself running a successful business.
Advice for future students? 
Enjoy it while it last and use every single resource you have to learn as much as you can.