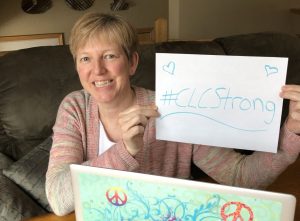 While COVID-19 has kept us apart physically, students, faculty and staff are finding smart, innovative ways to connect and complete spring semester with inspiring strength. We're also connecting through social media and video messages from President Hara Charlier, Counselor Suzie Karsnia and more.
Each week, we are serving dozens of prospective students. They can choose from taking seven different virtual group tours each week and have excellent access to one of our recruiters or advisors. Further, our advisors and Raider Connect coaches are connecting and working with hundred of students each week.
"We are striving to make sure that students continue to have an exceptional educational experience at Central Lakes College," said Paul Preimesberger, Dean of Enrollment Management and Student Success. "We're really striving to make sure they feel connected to campus, to our staff and faculty, and supported by our resources. We are doing everything we can to make sure that their CLC experience remains viable, engaging and advances their educational and career goals."
We'll get through this together! We are #CLCstrong.
Here are just a few cool examples of innovative ways our students are taking classes:
Videography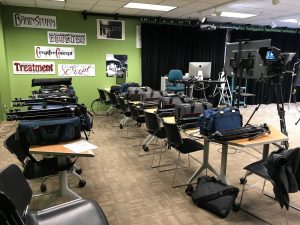 Students in the Videography Program each received their own care package, including a camera, tripod, audio and lights. Instructors turned the classroom studio into a Virtual Zoom Studio, where they can do multiple camera Zoom lectures with students remotely. Students will complete two full newscasts from their homes, as well as several video blogs for social media about their experiences of staying home and social distancing during the COVID-19 pandemic.
Automotive Technology
Students in the Automotive Program are using Electude simulation software to help complete necessary skills training. The simulation software allows students to immerse themselves in the world of auto mechanics, both individually or as part of interactive classroom exercises.
Chemistry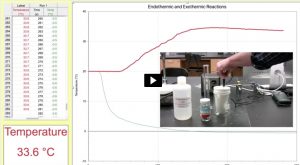 Chemistry students attend recorded lectures on D2L and meet in break-out rooms via Zoom to work through experiments, record observations and data, do calculation and complete the lab report. What does a chemistry lab look like online? Students watch and record data from lab videos.
Music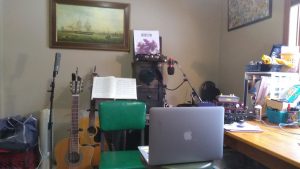 Instructors have set up audio studios in their homes to help facilitate one-on-one lessons with their students.
Instructor Mark Lindquist is doing remote guitar lessons for students and remote/streaming audio work for the CLC Audio Club from his home office/studio.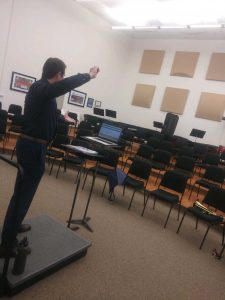 Symphony rehearsal via Zoom? Yes, it is possible!
Here, Director Jonathan Laflamme leads the Central Lakes Wind Symphony with a computer running Zoom on one music stand in front of the scores on another.
English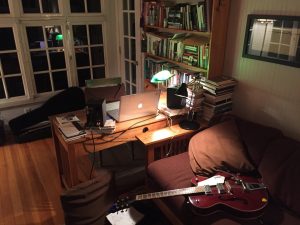 Students of English instructor Jeff Johnson know he really likes in-person classes. Here's a message from Jeff, as well a photo of his home office set-up:
"While I have long been an evangelist for actual classes, as well as a source of torment to devotees of the digital, this is the part where I am going to totally open my heart to being at least adequate at online teaching. Necessity dictates, and it calls for nothing less than an everything AND the kitchen sink approach. D2L, e-mail, texting, live classes and conferences and office hours with Zoom–whatever works."
Celebrations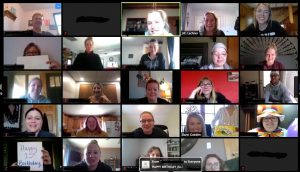 We can't let birthdays go by without a celabration! This nursing class surprised instructor Jill Lechner for her birthday today with signs and party hats! Fellow instructor Darci Goeden led the group in singing "Happy Birthday" and even provided a cake.
Practical Nursing
In the Practical Nursing Program, students attend online learning activities and recorded lectures, as well as Zoom meetings. For clinicals students use online recorded simulation, along with critical thinking activities.