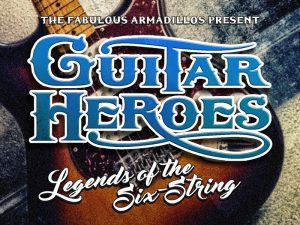 How many legendary rock guitarists can you name? All of the ones on your list, and many others, will be featured in 'Guitar Heroes: Legends of the Six String,' the latest theme show by the Fabulous Armadillos. Performing as part of the Central Lakes Community Performing Arts Center's Cultural Arts Series, the show will be Friday, April 21 at 7:30 p.m. in the Tornstrom Auditorium.
"I booked this show last summer before I even knew what it would be," says the Center's director, Patrick Spradlin. "All I knew was it was the Armadillos, and it would be awesome. So did our patrons, because we sold over 300 tickets before we could tell them what the theme of the show would be."
Armadillos front man and lead guitarist Paul 'Stretch Rocker' Diethelm gave a hint as to what audiences could expect. "Think of all the great rock songs you've ever heard, and you'll probably remember the lead guitar part. Who played that part? Guitarists like Chet Atkins, Jimi Hendrix, Stevie Ray Vaughan, Les Paul, Brian May, Eric Clapton, Jimmy Page, Mark Knopfler, Keith Richards, Eddie Van Halen. These are the heroes of rock 'n roll, and who we pay tribute to in this show."
Anyone who's attended a Fabulous Armadillos show knows what to expect: spot-on covers of the most iconic music in the rock genre. Gifted musicians and singers who leave it all on the stage. An evening of pure fun.
In 'Guitar Heroes' songs from mega-groups like Van Halen, AC/DC, Queen, The Who, The Rolling Stones, Led Zeppelin, the Allman Brothers, Dire Straits, Lynard Skynard, Cream, and many others will be performed by a lineup of all-star performers. The regular members of the Armadillos will be on stage: Diethelm, keyboardist and group co-founder Greg Armstrong, vocalist Pamela McNeill, bassist Mike Zeleny, drummer Jay O'Donnell, and guitarist/vocalist Billy Scherer.
Joining the regular band members will be special guitarist guests Paul 'Mayo' Mayasich and Kurt Rodman. Mayo has garnered worldwide praise from his colleagues, critics, and publications such as Vintage Guitar and Blues Matters/UK, drawing comparisons to the work of Duane Allman, Lowell George, Ry Cooder, and Sonny Landreth. Paul recently was awarded the 2016 "Blues Performer" and inducted into the Minnesota Blues Society Hall of Fame.  
Rodman has been a busy member of the St. Cloud area music community for over ten years, playing with Charlie Roth, Kevin Lange, '79 Freightliner, Kentucky Thunder and many other area musicians in various band formations. Most recently, Kurt has been performing in a series of tribute shows with Matt Veline and the Vees.
Special guest vocalist John Scalia also joins the band for this show. Scalia was last seen with the Armadillos in their 'Blue Eyed Soul' theme show in February, and has appeared in 'Stadium Rock' as well as a host of others.
Diethelm explained how the group chose this particular theme: "We played 'Guitar Heroes' eleven years ago in our first season at Pioneer Place to only two audiences…and it was time to bring it back!"
Tickets for the Fabulous Armadillos' 'Guitar Heroes' are available from the CLC Box Office at (218) 855-8199, or online at www.clcmn.edu/arts
The show is sponsored by Essentia Health, Hubbard Radio and the Brainerd Dispatch. The entire CLC Performing Arts Center season is made possible in part by an operating grant from the Minnesota State Arts Board, thanks to a legislative appropriation from the Arts and Cultural Heritage Fund.