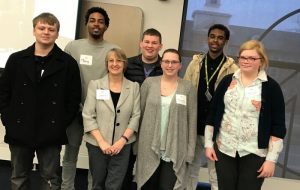 By Osirus Washington
Six Central Lakes College students got an up close look at key leadership techniques in a recent trip to the Minnesota Adult Student Leadership Symposium.
The event, held March 25 at St. Cloud University, was attended by CLC students Emily Gorman, Tiffany Johnson, Trayvon Lackey, Alec Nichols, Osirus Washington and Randy Wickman and TRIO Assistant Director Sue Austin.
At the training, TRIO programs from colleges and universities all over the state were in attendance. The workshop included some guest speakers, campus tours, skill-strengthening stations, scholarship and budget information, and much more.
TRIO work-study Trayvon Lackey did most of the promotion of the workshop to CLC students. He created and hung up signs to make sure TRIO students were aware.
"I'm glad I took the opportunity to go," he said. "Even though it was early in the morning I got to see all different types of people."
Lackey shared that the visions, values, and velocity station was his favorite. "It got me thinking and made me interact with the group."
The workshop offered a campus tour as one of the stations to show some students around and get a better feel of what the university has to offer.
"I can see myself transferring there when I leave CLC," said Trayvon.
Austin said she was proud of the students who attended the workshop. "Everyone was very engaged, respectful, and responsible. We got to write postcards to President Trump and other government officials on behalf of Trio," she said. "We had a big group for a small school."
She continued, "Trayvon and Osirus are excellent examples of what student athletes mean to CLC. With the government trying to pass bills to take away athletic and other student funding, it is important that CLC remains a diverse place for better learning."